How To Treat Dark Spots At Home, According To Experts
IMAXtree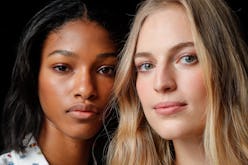 Thanks to a months-long bout of hormonal acne, there's now a chinstrap of red marks along the lower quadrant of my face. Each new pimple eruption leaves behind a constellation of scars, or hyperpigmentation — more on that shortly — that now require treatment (unless I resign myself to life with a scar soul patch, which is great for some — but not for me).
Acne, sun damage, melasma caused by hormones, and eczema can all lead to hyperpigmentation — or a concentrated darkening of the skin thanks to excess melanin — but not all dark spots are created equal, explains Dr. Mona Gohara, Associate Clinical Professor of Dermatology at Yale. "Hyperpigmentation is worse in skin of color because that's how we age. We don't age with wrinkles as much because we have more melanin," says, a woman of color.
So what can be done to mitigate the damage? I turned to dermatologists for more on how to identify, treat, and prevent each type of hyperpigmentation.
Sun Spots
Sun spots accumulate over time, explains dermatologist Dr. Shereene Idriss, and usually the damage is from before you're 20 years old — so, yes, all those years that you weren't exactly diligent about sun protection will likely catch up to you. "At first, sun spots creep up on you as freckles, but in your late 30s and 40s they appear as blotches on your face."
Once the damage has been done, it's harder to reverse, Dr. Idriss adds, but implementing a solid skincare routine can make a significant difference, especially when you start early. Dr. Idriss recommends a multi-pronged approach to sun protection. Among them: Wear a hat, avoid extreme heat — that means lose the Bikram habit — exfoliate a few times a week, and invest in a physical sunblock rather than a chemical formula. (The former has active mineral ingredients like titanium dioxide or zinc oxide; the latter generally has ingredients like avobenzone, octinoxate, or oxybenzone, which are absorbed into the skin and, according to the WHO, may be harmful to the environment and can be endocrine disruptors.)
Dr. Idriss also suggests layering an antioxidant vitamin C serum, under your sunblock in the morning — she swears by Skinceuticals and Drunk Elephant. A powerful antioxidant, vitamin C further protects skin from UV light exposure and helps to reduce existing dark spots. Dr. Gohara also recommends introducing a fern extract supplement which has been shown to protect skin against photo-damage.
Melasma
Melasma is a form of hyperpigmentation that affects more than 5 million Americans, according to the International Dermal Institute. "Hormones, pregnancy, periods, birth control, menopause, and heat can also trigger it," says Dr. Idriss. "Melasma has a brain of its own; it's like blood pressure, you have to learn to control it throughout your life. It always has the potential to creep up."
But how is melasma different than regular dark spots? "Hyperpigmentation caused by hormones typically reveals itself in brown patches that develop around the temples and cheeks as well as around the mouth," says Dr. Joshua Zeichner, Director of Cosmetic and Clinical Research at Mount Sinai Hospital's Department of Dermatology.
While melasma is unanimously difficult to treat, there are topical solutions available. Dr. Zeichner encourages patients who suffer from melasma to wear sunscreen every day, as even low levels of UV light exposure can stimulate new pigment production. For existing marks, Dr. Zeichner recommends investing in products with vitamin C, E, and glycolic acid, such as Ambi Fade Cream and Glytone Night Renewal Cream, nighttime treatments made with a low concentration of spot-lightening hydroquinone, and exfoliating hydroxy acid plus vitamin E, which helps to soothe skin.
Post-Inflammatory
Dark marks left behind in the wake of acne, eczema, insect bites, and rashes all fall under the umbrella of post-inflammatory hyperpigmentation (PIH). If like me, you're overcome by the urge to pop, squeeze, and pick at already aggravated skin — or worse, pick at perfectly healthy skin when you suspect something might be there — know that this will only exacerbate the problem. Trust me. Beyond leaving upset skin alone — yes, even the most pop-able of pimples — your best course of action in the wake of PIH is again a combination of sun protection and topical fading agents.
Dr. Gohara recommends a regimen that includes "judicious sun protection and reapplying every two hours." If that sounds unrealistic, consider using a sun block powder such as Colorscience Sunforgettable Total Protection brush-On Shield and at night, Isdinceutics Melatonik 3-in-1 night serum, made with Melatonin (yup, the same stuff that helps you sleep), Bakuchiol (a retinol-alternative), and vitamin-C that gently helps to blur hyperpigmentation. On the path to recovery, Gohara cautions against over-doing topical treatments, which can sometimes lead to more harm than good if you're layering something like, say, glycolic acid on a ruptured skin barrier.
Ahead, I narrowed down the laundry list of derm-recommended products for preventing and treating hyperpigmentation into a very approachable shopping list.