The Surprising Pumpkin Product From Trader Joe's That You'll Wish Was Available Year-Round
TraderJoe's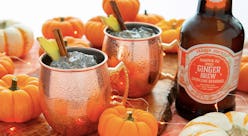 Now that it's officially mid-October, there's no longer any need to hide your penchant for pumpkin-flavored/scented — well, whatever! And what started with a simple PSL has blown up into a mega category offering everything from household cleaners to Spam (no, seriously). But arguably some of the most coveted of the season are Trader Joe's pumpkin products, and the proof is inside the store.
Step one foot into TJ's these days and you'll be inundated with the plethora of pumpkin goods, which includes beauty products, beverages, and savory stuff, as well as some of the more obvious dessert items — that is, if you can. Diehard fans of the flavor are quick to scoop up select products to really get into the fall spirit. And because they're only available during a small window of the year, the time to stock up is now.
It's also worth mentioning that the popular grocer also offers plenty of options in other fall flavors — like apple, maple, or butternut squash — if it so happens that pumpkin just isn't your thing. But if you want to go all-in, pumpkin-or-bust, there are a few especially covetable products to shop this season, while you still can.
Pumpkin Pie Spiced Ginger Brew
With a twist of pumpkin pie spices, this ginger brew is great to have on its own, or you can mix with your favorite vodka to create a festive fall cocktail.
Pumpkin Bisque
The not-so-secret ingredient that makes this reformulated soup recipe extra rich and creamy? Tahini, which also explains it's slightly nutty, toasty flavor. Just heat, top with Pumpkin Spice Pumpkin Seeds (also a thing) and serve.
Pumpkin Spice Biocellulose Face Mask
It may sound like a ploy, but there are actually legitimate skin benefits to some of pumpkin spice's ingredients. This hydrating sheet mask includes turmeric, cinnamon bark, and pumpkin seed extract to soothe your dry seasonal skin woes.
Pumpkin Spice Coffee
Make your own version of PSL without leaving the house with a little help from this classic seasonal staple.
Petite Pumpkin Spice Cookies
Bet you can't stop at just one of these frosted mini treats.
Pumpkin Caramel Sauce
Add a drizzle to ice cream to make dessert a little more festive.
Pumpkin Body Butter
Why shouldn't your body get the pumpkin treatment, too? You'll feel smooth, soft, hydrated, and most importantly autumnal with this super moisturizing body butter.
Pumpkin Chocolate Chunk Oatmeal Cookie Mix
Just add egg, butter, and water to whip up a batch of these chunky, chewy, chocolatey cookies.
Gluten Free Pumpkin Bagels & Pumpkin Cream Cheese
Okay, technically these are two different products, but together they're a seasonal dream team for breakfast. Fair warning: Stores are selling out of these gluten-free bagels fast — so if you see them at your store, you might want to scoop them up.
Pumpkin Rolls
Craving something even sweeter to start your day? These gooey rolls are so good, you'll wish TJ's stocked them year-round. Besides that, they're also so easy to make: Just pop them on a baking sheet and into the oven and serve.