The Surprising Essential That Is A Game-Changer For Any Thanksgiving Dinner
Shutterstock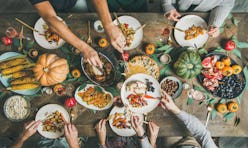 At this point, many are already in the throes of making their plans for the Thanksgiving holiday. Whether you're hosting a modern Friendsgiving affair or a more traditional Thanksgiving one with all the fixings, putting together a festive and unforgettable feast can be stress-inducing (even for the most seasoned hostess). Between deciding on a crowd-pleasing menu and keeping costs low, there are lots of little things to consider — especially if you want to make it a memorable event.
But what if putting together the ideal holiday dinner came down to just a few key details? According to Stefanie Cove, destination event producer and founder of Stefanie Cove And Company, this is actually the case. The entertaining guru says all it takes is five crucial factors to plan a soirée that'll be talked about for years to come.
And these details are not exactly what you would expect. Yes, delicious dishes and festive decor are equally important, but Cove explains that it's the small details that create an inviting ambience and warm holiday space. So if you've been searching for fall-themed serving dishes and florals galore, you might want to put those purchases on hold for a moment. Ahead, read the five key elements to planning a Thanksgiving dinner that is unique, chic, and, more importantly, affordable.
Opt For Serving Sets That Are Chic, Not Cheesy
While your initial instinct might be to load the table up with fall-patterned plates and glasses, Cove insists on having a nice mix of festive and neutral serving sets to keep the decor from being over-the-top. "I love using Year & Day for additional plateware and glasses," she says. The matte finish and muted tones of the serving essentials lend an elevated, chic touch to the table.
Load Up On Candles
Again, traditional centerpieces for holiday dinner parties consist of florals on top of florals. While a beautiful flower arrangement will always have its place at a festive gathering, Cove suggests loading up on another essential to set the tone (and lighting): candles. "Decor wise, always have more candles than florals, and just a few bud vases mixed in throughout," suggests the event planner.
Set The Mood With Music
This may seem obvious enough, but Cove insists on putting an effort into some mood-making tunes. "Make sure you have a nice portable speaker to play your favorite playlists from Spotify," she says. "This is essential."
Serve A Well-Rounded Meal
Whether you go with classic Thanksgiving dishes like green bean casserole or macaroni and cheese or choose to switch things up this year, Cove says catering to a variety of dietary restrictions is essential to keeping guests happy — it also adds a thoughtful touch. "It's nice to have dairy- and gluten-free options at dinner," she recommends. "The options have come a long way recently and can be a nice, light change."
Make It A Potluck
If you're on a tight budget, try enlisting the help of your friends to put together your Thanksgiving menu. "Keep it budget friendly by having guests bring dishes and alcohol," says Cove. "One friend can handle wine and another tequila, vodka and specialty cocktails. Have friends handle the sides and you can master the main course. This way it's not all on you."