The Healthy 10-Minute Meal That Will Give You All The Fall Feels
Anna_Pustynnikova/Shutterstock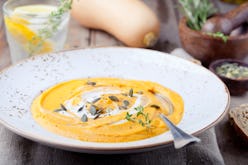 'Tis the season — to eat all the delicious autumnal things. One of the best parts of entering fall (besides having an excuse to splurge on a ton of cute new sweaters) is the food. There is a literal bounty of fruits and vegetables available this time of year, so you've got a fantastic opportunity to whip up some healthy fall recipes that will perfectly highlight them.
Whether you're into the pumpkin spice thing or not-so-much, you've got a ton of produce to choose from if you want to center your meals around fall's best flavors: Think butternut squash, pomegranate, Brussels spouts, sweet potatoes, apples, pears, and grapes. And even though many of them are naturally somewhat sweet, it's not just desserts that seasonal ingredients can inspire. From set-it-and-forget-it crock-pot dinners to anything-but-boring breakfasts, nutritionists and healthy food experts have gone ahead and dreamed up some simple, creative, and totally tasty dishes that also happen to be good for you.
Ready to get in the kitchen and get to work? Read ahead for eight different dishes that will keep you eating well all season long.
Shredded Brussels Sprout Salad
You've probably enjoyed your Brussels sprouts roasted or fried — which is still totally delicious — but for a new way to try the cruciferous vegetable, functional nutritionist Caitlin Self suggests shredding them into a salad. "Try one of the most popular fall combinations: Brussels sprouts, bacon, and apples," she offers. "You can make a super easy salad with a few bags of shredded Brussels sprouts, some cooked and chopped bacon, and diced apples. Toss with a little lemon-honey vinaigrette."
Simple Squash Soup
When squash in is season (and therefore extra flavorful), you don't need to do much to it to create an awesomely autumnal dish, like a pureed soup — and Self offers a hack to make it as simple as possible. "Grab some precooked or frozen squash like butternut or kabocha, and blend it with a little chicken broth and milk (dairy or non-dairy)," she suggests. "Warm it up on the stove with spices like sage or oregano and you've just made super easy and healthy squash soup!"
Pumpkin Spice Granola
Don't forget about breakfast, arguably the most important meal of the day. "Make your house smell amazing with granola," Self recommends. "Simply toss together oats, nuts, seeds, maple syrup, vanilla, spices like pumpkin pie spice and cinnamon, and a little butter or coconut oil, then bake on a tray at 280 degrees for about 60 to 90 minutes. Your house will smell like fall right away!"
Easy Apple Crisp
If apple pie feels too labor intensive when you're craving a fall-flavored treat, follow Self's advice and whip up a super easy crisp instead. "You can still indulge in all the flavors of your favorite dessert, but this version is much better on the gut," she says. "Chop or slice apples and toss them with a little bit of maple syrup, spices, and salt. Mix some rolled oats with butter and either more maple syrup or brown sugar. Pour this mixture over the top of the apples and bake! So easy, and much lighter than apple pie!"
Pumpkin Pasta
"Use pumpkin puree to make dishes creamier all fall long — the thick and creamy texture is great for making flavorful sauces," explains Self. "Warm a can of pumpkin puree with one to two cups milk of choice and your favorite fall spices and serve it with pasta — I like lentil and chickpea pastas here for extra protein."
Fall Harvest Tray Bake
Karen Dawn and Katrina Scott, founders of Tone It Up have challenged their followers to 31-Day Fall Challenge starting October 1, and one of the simple, no-fail fall dishes suggested in their nutrition plan is this colorful sheet pan meal. To create it, toss fall squash (like acorn or delicata), brussels sprouts, carrots, chopped kale, bell pepper, red onion, and garlic in olive oil with salt, thyme, nutmeg, and red pepper flakes. Remove the kale, and bake the rest of the veggies in a 400 degree oven for about 20 minutes. Add the kale for the last six to eight minutes. Remove and top with pomegranate seeds, pumpkin seeds, sesame seeds, and lean protein (the ladies suggest chicken or salmon) if you like before serving.
Butternut Squash, Turkey, & Lentil Chili
Chili is the perfect cold weather meal, and Dawn and Scott have a great autumnal version to offer. Just sweat onions and garlic in coconut oil with a mix of cumin, chili powder, oregano, cinnamon, and chipotle powder, then add in lean ground turkey and brown. Toss this into a slow cooker with bell peppers, butternut squash, dry lentils, diced tomatoes, tomato paste, vegetable stock, and dash of maple syrup, then cook on a low setting for seven hours.
Pumpkin Pie Chia Seed Pudding
Tone It Up's pumpkin-flavored chia pudding is perfect for breakfast or any time you're craving something slightly sweet. To make it, combine chia seeds with pumpkin puree, unsweetened almond milk, and a touch each of maple syrup, vanilla extract, and pumpkin pie spice. Then just refrigerate for at least 30 minutes to set before enjoying.