This Warm & Cozy Cocktail Is Perfect For Winter Entertaining
Ivanna Pavliuk/Shutterstock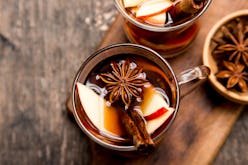 Not everywhere in the world gets the kind of winter weather that instantly puts you into the holiday spirit — but inside you can always make things feel warm and cozy with seasonal food and drinks that just make you want to curl up with a blanket in front of the fireplace (even if it's somehow still 65 degrees outside). In terms of beverages, you probably have already made a toddy or two this time of year, so you know how deeply satisfying to sip warm cocktails in winter. But if you're ready for something new, there are a couple different drinks (and some special twists on the throwback ones) to try that'll give you those same festive feelings.
Certain adult beverages just make you feel like it's the holidays — like sparkling wine or egg nog — but you can't deny the inherent comfort of a hot drink, and mixing up a batch might just be the perfect way to greet your guests if you're doing some holiday entertaining. And according to some expert mixologists, you can keep the classic elements of your favorite seasonal cocktails (like an Irish Coffee or Mulled Wine) but make them in a fresh new way with just a few tweaks.
Ahead, some professional cocktail creators are sounding off with their favorite warm drinks to serve this season — whether it be for a cozy party of one (you, binging all the shows) or your whole merry crew.
Spiked Mexican Hot Chocolate
"One of my favorite warming winter drinks is a spiked Mexican hot chocolate," says Charity Johnston, Beverage Director at Toca Madera. "Mexican chocolate is rich and dark which elevates this beyond a traditional hot chocolate." For an unexpected twist, Johnston suggests using tequila at the spirit here — specifically an anejo, which has warmer caramel notes. And if you like a little more heat, don't forget a pinch of of cinnamon and some cayenne pepper to finish.
Hot Tea Punch
Love Hot Toddies but looking to try something lightly different? NYC-based beverage consultant Pamela Wiznitzer reinvents the classic with a few changes. For her hot tea punch, brew a large batch of rooibos tea. Once it's steeped, add cognac, dry curaçao, lemon juice, honey, and a spice sack with cinnamon sticks, cloves, all spice, and star anise. Add some citrus wheels and warm the mixture over low heat for about 20 minutes prior to serving.
The LA Irish Coffee
"I love a good Irish coffee for winter time," says Gabe Briseno, bartender at Employees Only. "For our guests in Los Angeles, we'll give it a little twist by using almond milk or coconut cream to change up the flavor while retaining the fantastic cozy nature of the drink!"
Japanese Hot Toddy
Another take on the classic Hot Toddy comes courtesy of Matt Landes, founder of Cocktail Academy. "My personal favorite twist is changing out the traditional lemon for another citrus," he explains. "Try yuzu with Japanese whisky as the base spirit for something truly transportive."
Spiced Hot Buttered Rum
Another drink that deserves a comeback is the Hot Buttered Rum — which is pretty much exactly as it sounds. For a slightly spicy version, try this recipe that combines dark rum with cinnamon syrup, and fresh lemon juice, topped with boiling water and finished off with a pat of unsalted butter.
Hot White Russian
A White Russian and a hot chocolate come together in this cozy cocktail with blends a white chocolate ganache (melted white chocolate with milk and half and half) with vodka, Kahlua, and White Godiva Liqueur. Use this recipe to give the drink a whirl this season.
Spiked Apple Cider
In your crock pot, combine apple juice and mulling spices and simmer for a couple hours. When you add in your booze in at the end, try something a little different this year, like an apple brandy instead of the usual bourbon.
Gin Toddy
Coleen Morton, Brand Director of Mulholland Distilling recommends this riff on a Hot Toddy. Combine the Mulholland's smooth, aromatic gin with creme de cassis, a dash of bitters and hot water, then garnish with a cinnamon stick.
Mulled Wine
Want a tart twist on the usual mulled wine? Add a little cranberry to the mix. This recipe is so easy to make with a slow cooker: Just pour in a bottle of dry red wine, some freshly squeezed orange juice, a cup of cranberries (frozen is fine), some orange peel and mulling spices (star anise, cinnamon, clove) for aromatics, and a half cup of brandy and let simmer. As a bonus, your house will smell amazing by the time guests arrive.