Skip The Prosecco And Grab This $15 Bubbly For A Perfect Pairing With Your Holiday Dinner
Dasha_Romanova/Shutterstock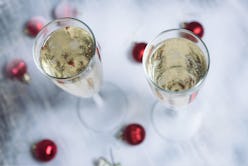 Some would argue that you aren't truly taking full advantage of the "eat, drink, and be merry" mantra of the holidays without a glass or two of bubbly. But — as wine experts will tell you — not every bottle is created equally. For example, while some bubbles are better for diluting with a bit of orange juice for your brunch beverage du jour, others are dignified and nuanced enough to stand on their own. And what's more — just as is the case with wines — different types can fare better or worse when paired with different types of dishes. Considering that, the best sparkling wines to go with your holiday dinner go way beyond your go-to prosecco (not that there's anything wrong with the semi-dry, Italian bubbly), and with a little help from the pros, you can easily find the perfect bottle to suit your needs.
As a sommelier, Partner/Beverage Director at Cote, and author of the upcoming Wine Girl (the follow-up to her ode to rosé, Drink Pink) Victoria James, has earned some serious credibility as an expert in her field. So who better to inspire your sparkling wine suggestions this holiday season? If you're game to try out something totally different, read ahead for her six suggestions of different types of bubbles to shop now — from the on-trend natural varieties to some shockingly affordable bottles.
Pétillant Naturel (or Pet Nat)
"Known as the hipster bubble of choice, this quaffable wine is slightly effervescent and great with charcuterie, cheese — essentially any great spread," says James. "The wine usually has a bit of residual sugar which makes it the ideal pairing for cheese/charcuterie, has a soda-like foam to it, and can sometimes be cloudy from a lack of filtering." As for her top Pet Nat pick? Renardat Fâche's Bugey Cerdon.
Crémant
"Made in the Champagne method in France but not from the Champagne region, these wines can come from seven different places in the country," James explains. "Rarely are these as compelling as Champagne, but they might save you a few bucks. They're typically dry, tart, racy, and make for a tasty apéro. My go-to right now is the ebullient and biodynamic Crémant de Jura from Tissot."
Lambrusco
This sparkling red wine could easily become your new holiday favorite. "[It's] an intense and inky wine with frothy bubbles that is the cheeriest of red wines," James says. "However there is a huge surplus of low quality Lambrusco, so make sure you are asking your local wine shop for quality wine from small growers." She suggests snagging a bottle by Fattoria Moretto.
Cava
Think of cava as Champagne's Spanish relative. "This is a wine that sometimes sommeliers in blind-tastings mistake for its French cousin," says James. That said, there's a huge range in quality here, so do your research and hunt for a bottle by a well-established winery.
Champagne
"Inarguably the best sparkling wines in the world are made [in Champagne]," the sommelier explains. "The big brands offer consistency and the small growers offer terroir-driven examples from the region. Good Champagne can be found for around $40 in a wine shop, but make sure you are going for quality here." Specifically, James personally recommends grabbing a bottle by Jacques Lassaigne.
Special Club Champagne
What's even more special than bubbly from Champagne? Special Club Champagne — but it's complicated, according to James. "These Champagnes come from an elite consortium of small growers and are some of the best representations of terroir versus the big houses," she says. Since these bottles are decidedly a splurge, do some homework before dropping the big bucks on one.