This Obscure Cocktail Could Be The Key To Holiday Party Success
Goskova Tatiana/Shutterstock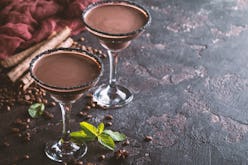 Just as is the case with certain fashion trends, there are some vintage cocktails that are due to make a resurgence. Maybe you've previously written them off for being something that your grandparents always sipped or just because the ingredient combo seemed a bit strange. That said, it wasn't that long ago that most people felt the same about the Old Fashioned, the Negroni, and even classic martinis — which are now some of the most widely ordered beverages at bars and restaurants known for their expert drink slinging.
Not only is digging deep into the canon of cocktails a way to switch up your standard drinking repertoire, it also might just be a creative way to liven up any holiday parties you're planning this year. Of course wine sampling always feels like a sophisticated choice, and scotch and cheese pairing is an unexpected but totally cool way to gather a group, but if you're game for hosting a cocktail hour, a throwback option could be the ideal way to give your guests something they probably haven't tried before — making it all the more memorable. In fact, it could even be part of a whole vintage-themed affair. For example, you could suggest a dress code and serve dishes straight out of The Joy Of Cooking or The Playboy Gourmet (think ambrosia salad and deviled eggs).
If the above sounds like your idea of a festive good time, swap out the traditional fall cocktails for some of these forgotten ones — including a few you've probably never heard of and others you thought you'd never see again — recommended by some of the best mixologists around.
Delicious Sour
"It's likely that you've never heard of this drink," says NYC-based beverage consultant Pamela Wiznitzer of this drink that combines Calvados (apple or pear brandy), Crème de Pêche liqueur, lemon juice, simple syrup, egg whites, and a splash of soda water. "That's due to the fact that Calvados is rarely used as a base spirit for popular cocktails. However, this play on a classic 'sour' style drink lives up to its name and I've never had a guest ever complain or return one of them when I serve it up at the bar." Because pears and apples are seasonal fruits, this one makes for an especially good option this time of year.
Sidecar
Wiznitzer's next suggestion is the classic (but often neglected) cognac cocktail that's so easy to make, with just the addition of two other easy-to-come-by ingredients: Lemon juice and triple sec. "And when you use a great triple sec like Cointreau, Combier, or Pierre Ferrand's Dry curaçao, the drink gets that extra kick of booze plus flavor that really makes it pop," she explains. "Take it or leave it, the additional sugar rim is such a fun way to add more flair to the drink, and I suggest getting fancy with the sugar and infusing it with other flavors to add a new dimension to the cocktail."
Mudslide
"Go ahead and laugh, but this decadent drink is basically the improved White Russian by substituting milk or cream for a cream liqueur," says Wiznitzer. "I'm sure many people have had the frozen version at TGIFridays (complete with an entire scoop of vanilla ice cream and chocolate syrup), but the simplicity of this drink lies in the the classic build with vodka, coffee liqueur, and a cream liqueur." As for ways to take it a notch, the drink expert suggests swapping out the vodka for another spirits (like rum, Irish whiskey, bourbon, or cognac) or infusing your cream liqueur with a nostalgic, chocolatey breakfast cereal. .
Singapore Sling
This gin-based cocktail dates back to 1915 at the iconic Singapore hotel, Raffles. "This cocktail is way overdue for a comeback," Matt Landes, founder of Cocktail Academy, says of this tropical concoction, which also features pineapple juice, lime juice, curaçao, and Bénédictine. "And in the cocktail world, slinging instead of shaking takes skill and art — plus it's super cool."
Tequila Rickey
"It's about time for the margarita and the tequila soda to merge," Landes says. And that's exactly why he's recommending the Tequila Rickey, which is comprised of tequila, agave, lime juice, and soda water. Looking to give this simple cocktail a twist? Try swapping in smokey mezcal instead.
Gershwin
"Everyone loves a Moscow Mule and its ginger kick," Landes says. "This is something similar but served up, like a martini." To make this one, combine gin, ginger liqueur, lemon, simple syrup, a few drops of rose water. Then shake, strain, and serve in a coupe glass.
Brandy Alexander
This classic holiday cocktail could easily be served in place of dessert, since it's so rich and creamy. To whip one up, combine brandy with crème de cacao and heavy cream, and add some freshly grated nutmeg — an ingredient Landes swears can't be skipped.
Mary Pickford
"This was one of those cocktails that came about because prohibition happened," Gabe Briseno, bartender at LA's Employees Only, says of the rum-based drink, which gained popularity in the 1930s. "It has wonderful bright flavors coming from the Maraschino liqueur, grenadine, and pineapple juice." Garnish yours with a Luxardo cherry for a more updated take.