This Mezcal Cocktail Is The Perfect Margarita Alternative
Cabeca de Marmore/Shutterstock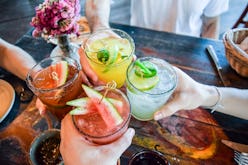 A classic margarita is never a bad choice when it comes to warm-weather festivities — including any upcoming Cinco De Mayo bashes you may be hosting. That said, it's always fun to try something new. Mezcal, an agave-based booze that's like tequila's smokier sister, might just be the secret ingredient to creating a unique concoction that will be a welcome change of pace for you and whoever you're entertaining this season — which is why so many of the hottest bars and restaurants have been adding spring mezcal cocktails to their menus.
Warmer weather seems especially conducive to certain flavor profiles (especially compared to winter) that are ideal to include in both the meals you're preparing or the drinks you're whipping up during outdoor dinner parties. Since tequila arguably makes for some of the best seasonal libations this time of year, mezcal can be a great substitute — and the upcoming Mexican celebration might be the perfect time to try it out.
"With the resurgence of mezcal and its increased popularity in the United States, it is no surprise that the popular reach for a beer or tequila during Cinco de Mayo is being switched up with a call for a smoky twist on favorite cocktails," says El Silencio Brand Director Natalia Garcia-Bourke. "Mezcal is extremely versatile and has a smokiness that enhances the complexity of flavors and transforms a lot of popular classics. For me, simplicity is queen, the best drinks are those that allow the base spirit to shine but don't detract from the complimentary flavors."
Garcia-Bourke adds that some of her favorite, and most simple ways to enjoy mezcal this season are in a Paloma (fresh grapefruit juice and a splash of soda water) or in place of gin in a classic Negroni (add Campari and sweet vermouth), but in honor of the upcoming holiday, El Silencio has worked with a handful of upscale watering holes to create some extra special beverages that you can also try at your next soirée (or see the brand's local guide to find bars near you that offer something similar). Ahead find five of those custom creations that you can enjoy long after Cinco de Mayo.
El Alteño
Created by Brett Esler of Austin bar Whisler's, this cocktail combines mezcal with pomegranate liquor, lemon, and honey, finished with a sprinkle of Sal de Gusano (aka "worm salt'), which is made from the worm found at the bottom of a tequila bottle mixed with rock salt and dried chile.
Fuego Verde
Frank Mills of Washington D.C. eatery Roy Boys created this green twist on a traditional Bloody Mary that boasts a mix of green tomatillo, poblano, jalapeño, green apple, cucumber green Tabasco, olive juice, lime, horseradish, and celery salt. Although the restaurant offers the option of a mile-high garnish, you can finish yours simply with a salt and pepper rim.
Xaagarita
Love margaritas? Try this concoction by Ryan Payne of Dallas' Tiny Victories, which is made with mezcal, hibiscus agave syrup, lime and triple sec.
Dirty Old Man
NYC-based cocktail lounge Barely Disfigured will be serving this combo of mezcal and tequila, red chili pepper-infused Aperol, pineapple, lime, agave, and a dash of bitters in honor of Cinco de Mayo.
Las Manos De Ochoa
Think of this drink from San Diego's Fifth and Rose as a spicier, smokier take on a margarita. To make one, mix mezcal with ginger, lime, amaro, and bitters, then shake and strain into a coupe glass. Or serve however you like to drink your margs — nothing wrong with a little blended drink on warm weather days.