The Fall Eyeshadow Color Trend To Shop Now, According To The Latest Palettes
NARS/Instagram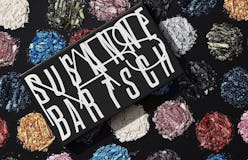 As another fashion week comes to a close — and beauty lovers across the world begin to deduce next season's trends from the expansive array of looks featured — add another source of intel to your list: September 2019 eyeshadow palettes. There's been no shortage of newness this month, thanks to everyone from NARS to Lime Crime. Even runway veterans like Victoria Beckham (and her new line, Victoria Beckham Beauty) and Pat McGrath Labs used September to gift the world new shades.
That said, there is one color that stands out of the crowd, simply because it's currently everywhere: yellow gold. It's the soul of Urban Decay's new Naked Honey palette, and featured in ColourPop's new Whatever palette, Laura Mercier's new Parisian Nudes, and more. Some shades of gold are deep, leaning more bronze; others are pale and champagne colored; all are positively radiant, thanks to the copious amount of sparkles used in each unique formula.
However, that may be the only cohesive thread tying the September releases together. Rather, the focus this season appears to be on creating a mood; such as the futuristic, Euphoria-esque makeup from NARS and Pat McGrath Labs, bathed in all sorts of space-age shimmers and glitters, or the simple French-girl chic of Laura Mercier's Parisian Nudes palette. Even the neutral, smoky-eye shades from Lime Crime's new (and last-ever) Venus palette operate on a deeper frequency, using gothic colors and packaging to pay homage to the brand's well-loved makeup collection.
The goal of an eyeshadow palette in 2019 seems less color focused, and more about telling a story. Whether that be the New York City-inspired tale spun by Natasha Denona's new Metropolis palette or the retro, disco-drenched narrative at the heart of the Urban Decay Naked Honey palette, it doesn't totally matter. Capturing an aesthetic — through a handful of shades — is the name of the game.
So, which story will you tell using the September 2019 palettes? To help you decide (or quickly add every single one to your shopping cart) keep on reading. Eight brand-new eyeshadow palettes, released just in time for fall 2019, are ahead.