Lime Crime Just Launched Its Last-Ever Palette In This Fan-Favorite Collection
Lime Crime/Instagram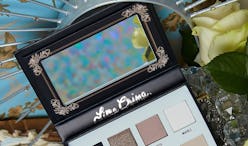 Beauty fans, the end of an era has finally arrived. On Sept. 9 — four years after the original Venus palette inspired shoppers everywhere to embrace red eyeshadow — the Lime Crime Venus Immortalis palette debuted, and it's the final chapter in the brand's iconic collection. Retailing for $38 and available on Lime Crime and Ulta's websites, the new Venus Immortalis palette offers six grungy, smoky shades and four unique finishes certain to win a well-loved spot on your vanity.
And while this may be farewell, it's definitely not an absolute ending. Lime Crime's Venus palettes are not being discontinued and will stay in production — there just won't be any more additions to the collection for the foreseeable future, according to the brand.
"Long live Venus through Immortalis, a beautiful afterlife," the brand wrote on its Instagram page, @LimeCrimeMakeup. "Her reign may be ending, but her legacy will live on forever through the shades of depth and shadow. Her infinite dynasty remains as bright as the packaging glows in the dark."
Yes, really. The Immortalis palette glows green in the dark; which feels like a proper send-off for a palette collection that's inspired beauty fans across the world to try offbeat and daring eyeshadow looks since 2015.
Similarly, the Venus Immortalis' cool-toned color story feels like the grand finale, even though it's much more monochromatic than the OG Venus eyeshadow palette. The grayscale collection features two brilliant foil shades, "Echo" and "Hail," that'll definitely kick your future smoky-eye looks up a notch. Even its basic shades are different than ones that may already be in your collection, like the white color "Marble." Instead of being pure and opaque, the eyeshadow is sheer and shimmery — proving that even Lime Crime's classic-minded shades have something up their sleeves.
Though the Venus Immortalis palette may be dark and sultry, the future is certainly bright for Lime Crime — and this ending will undoubtedly mean more doors (and collections) opening in the future. 'Til then, shop the Venus Immortalis eyeshadow palette on Lime Crime's website, or online at Ulta.