How To Shop NARS' Stunning New Limited-Edition Eyeshadow Palette Before Everyone Else
Courtesy of NARS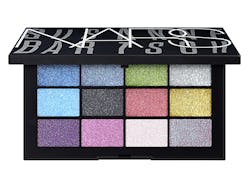 If you're looking to liven up your beauty arsenal with a dazzling dose of drama and extravagance, NARS' new Queen of the Night Eyeshadow Palette is calling your name. Inspired by legendary events producer and icon of New York nightlife, Susanne Bartsch, the 12-pan palette features dramatic hues with a unique metallic texture and a long-wear formula that will endure late-nights-turned-early-mornings flawlessly. Bartsch, 67, has been making waves in the nightlife scene since the late '80s, when she threw monthly parties at the Manhattan's Copacabana, drawing eccentric guests from all walks of life for the far-out gatherings.
The vibrant new launch will be available to shop at NARS boutiques and online on Sept. 20, but if you're feeling particularly intrigued by the glittery metallics, you can add the palette to your cart exclusively on NARS' Instagram account right now. Grab your phone, head to @narsissist and toggle to the Shopping section, then proceed to checkout without even exiting the app.
Regardless of your preferred beauty vibe for a night on the town, this high-octane, $59 palette has something for you. For ultimate versatility, the crease-resistant, micronized-powders can be applied wet or dry, as liner or on the full lid, allowing for buildable intensity and a range of looks from opulent to outlandish.
With glimmery shades of green, charcoal, and gold, the high-pigment palette promises far-out beats akin to Bartsch's head-turning costumes and over-the-top soirées. Boasting a mesmerizing blend of shimmer, glitter, and pearl, the vivid shadows deliver an electric pop of color, with reflective properties reminiscent of Bartsch's rhinestone-adorned headpieces.
From a bold, bright gold titled "Extravaganza" to a metallic paprika called "Trance," this daring family of hues isn't for the faint of heart. After all, Bartsch's archive of next-level looks will likely leave your jaw on the floor, so take after the legend and go bold or go home. While the golden era of New York nightlife might be dead and gone, Bartsch still steps out to host shebangs all these years later, so stay privy to the legendary socialite's happenings via her Instagram.
Deemed "the night life equivalent of a couture label" by The New York Times, the Swiss tastemaker's unapologetic authenticity and head-turning aesthetic is scattered all throughout this glimmering new palette. Arm yourself with the new launch now, and get ready to paint the town red. But first — be sure to paint your eyelids with the gorgeous teal glitter, appropriately dubbed "Nocturnal."