Pat McGrath Labs' Newest Mothership Eyeshadow Palette Has Already Had Its Runway Debut (& It's *Gorgeous*)
Courtesy of Pat McGrath Labs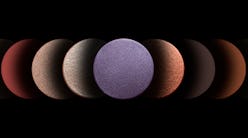 "Prepare to panic," Pat McGrath — the iconic makeup artist behind Pat McGrath Labs — wrote on an Instagram post Aug. 22. In the accompanying video, hands were seen unwinding none other than Pat McGrath Labs' Mothership VI: Midnight Sun palette, submerged in the brand's signature chunky gold glitter. And while fans didn't know until later what shades the upcoming palette would offer, they still managed to create quite the buzz; Pat McGrath's initial video has been watched more than 220,000 times.
Though lucky for you, Pat McGrath Labs has already revealed the Midnight Sun palette's color story — even if it doesn't officially launch until Sept. 6. Like the five Mothership eyeshadow palettes that came before it, Midnight Sun features 10 shades and retails for $125. The mix of eyeshadow finishes, created from seven unique formulas, will make any beauty lover's heart soar: There's the metallic copper shade "Blood Moon 5", the platinum glitter topper "Astral Solstice", and the palette's stand-out purple, "Blitz Violet Orchid", just to name a few.
"Revel in the nocturnal surrealism of Mother's NEW Eye Palette — STARRING ten opulent hues that conjure the divinity of the Midnight Sun. A scintillating solstice of colour emerges as magical bronzes, wicked violets, mystical crimsons and divine golds eclipse eyes with multi-dimensional effects and unprecedented single-stroke intensity," Pat McGrath wrote on another IG post.
And you may've already fallen in love with the palette — whether you realize it or not. The palette has already made it onto the runway twice: Once at Maison Margiela's Artisanal Co-Ed Collection Fall/Winter 2019, and again at Valentino's Haute Couture Fall/Winter 2019 show. The two very different shows illuminate just how versatile Pat McGrath Labs' eyeshadow palette can be; you can choose to do artistic, editorial looks à la Maison Margiela, or you can do something classic, polished, and glamorous, like Valentino.
"With Valentino, I was captivated by the idea of transforming the eyes into a surreal conjuring of glittering glamour with fantastical maximalism," reads a quote by McGrath in a press email. "For Margiela, we evoked the magic of Galliano's groundbreaking collection and took surreality in the exact opposite direction, striking romance for undone abstraction to elicit a stunning sense of ethereal projections layered across the face."
If you just can't wait until it drops Sept. 6, you can go ahead and sign up for the Mothership VI: Midnight Sun waitlist on Pat McGrath Labs' website beforehand. Or, grab the palette when it drops exclusively on PatMcGrath.com that day, and on Sephora.com (and at select Sephora stores) on Sept. 13.