Urban Decay's Latest Palette Is A Glamorous Way To Approach Neutrals This Season
Urban Decay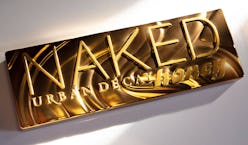 Let's face it: the eyeshadow palette world is one dominated by trends. This isn't necessarily a bad thing at all — especially when you suddenly start craving a pistachio-colored eyeshadow out of nowhere. However, there are a few colors that never fall off of the global radar, and one of those is gold. Like a classic smoky eye, a gold shade can be swiped on for any occasion, party, or wherever else life leads you. It's a color that goes by many names, as well; according to Urban Decay's new Naked Honey Eyeshadow Palette, you can call it "Honey."
Or, at least, that's the title shade from the brand's newest Naked palette, which dropped in Sept. as part of Urban Decay's fall launches. Like the Naked Cherry palette that came before it, the Naked Honey palette zeroes in on one core color — in this case, a shimmery, glamorous gold — and expands upon it, toying with tones and neutrals to support your future looks. The Naked Honey palette comes with a total of 12 brand-new, exclusive shades and retails for $49 on Urban Decay's website, as well as at Ulta and Sephora.
Creating the perfect gold-themed palette wasn't the only end goal, though. According to the brand, a retro '70s color palette also inspired which eyeshadows were included — something you can spot right away, thanks to the various coffee-colored hues and the yellow tone in the shade "Honey."
Even better, the palette lists four unique eyeshadow finishes: satin, matte, shimmer, and metallic. Regardless of which one you dip into on any given day, each shade is cruelty free, as is the double-ended eyeshadow brush that comes with the palette.
Need another excuse to visit Urban Decay's website? The brand also just released new palette-themed vegan Lip Plumpers; which means you can complete any Naked Honey eyeshadow look with a swipe of the $22 Urban Decay Lip Plumper in "Honey", a sparkly gold gloss that smells like — you guessed it — honey.
To grab the new palette (and any of the Lip Plumpers), just visit UrbanDecay.com, or continue scrolling down; everything you need to create Urban Decay's new glowy, golden look is listed below.