The Perfect Gift — That Doesn't Need To Be Unwrapped — For That Friend Who Never Wants Anything
4 PM production/Shutterstock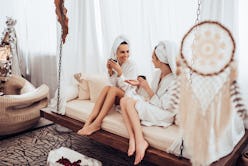 It happens every year: the inevitable last-minute shuffle of holiday gift shopping, which, oftentimes, leads to getting the same old things you give every year — or just picking up yet another gift card. Or perhaps you're shopping for someone who already seems to have everything you could possibly think of (or never asks for anything). Regardless of whether your issue with shopping this year is lack of options or a lack of imagination, the option of experiences as gifts may just be the thing to break you out of your rut and give your loved ones something more meaningful than yet another candle (not that a great-smelling candle isn't always a good go-to).
Considering the fact that we're in the midst of a wanderlust craze, it's no surprise that more and more individuals are seeking tangible experiences that allow them to live in the moment and make memories over physical things and products that can lose their novelty rather quickly.
From treating your friend or significant other to a concert by their favorite performer or plotting a quick (but glamorous) getaway for the weekend, there are a ton of fun things you can do in lieu of a traditional gift — and some of them can totally be done on a budget. Ahead find seven ideas for experiences to give this holiday season.
Spa Day
Treat your friend, mom, significant other, or whoever deserves a little pampering to a day at the spa. If a pricey day spa is out of your budget, go for the DIY approach and set up a day where you can do sheet masks together, or have supplies on hand to do a little mani/pedi. To make it totally special, whip up a batch of spa water with cucumber and lemon — or go big and enjoy mimosas while you do an indulgent beauty routine.
Wine Tasting
You don't have to plan a trip to Tuscany to introduce your gift recipient to the wonderful world of wine via a little tasting session. If you live in a place that's close to a vineyard, just arrange for a ride share app, pack a few snacks, and go for it. If there aren't any nearby, see if any wine shops or bars in your neighborhood offer wine-tasting sessions, which can be just as fun and informational.
Glamping Trip
If you're able to get away for a bit, a thought-out glamping trip can be a totally dreamy gift. And if time is limited, glamping is something you can do pretty much anywhere — the beach, the woods, the mountains, or even a romantic, luxe situation set up in your own backyard.
Cooking Class
Cooking classes are a meaningful gift for bonafide culinary gurus and kitchen novices alike, and you can likely find one in your city that's tailored to their level of expertise, like homemade pasta-making or pickling. If it's something you're doing together, cooking also makes for a great bonding experience.
Museum Membership
Art aficionados will appreciate the gift of a membership to a local museum (if, in fact, they don't already have one) so they can attend as often as they like. If a membership is out of budget, planning just a day trip to a museum or gallery is equally thoughtful, but will cost a whole lot less (in some cases, even free).
City-Wide Food Tour
If taking a loved one out to brunch, lunch, or dinner is a great gift, imagine touring the city to enjoy a day of eating bites at various iconic spots. Pick a few places known for certain dishes, and then spend the day traveling to all of them. Taco trucks, cute cafes, a nostalgic burger spot: The whole town can be your foodie playground.
Live Performances
Whether it's tickets to a concert by their favorite musician or a night at a local comedy club, a live performance always promises to bring you both some memorable moments. Other options include dance performances, theater, live panel discussions, the opera — the list goes on.