25 Unique Gifts For The Stylish Woman Who Has Everything
Grosescu Alberto Mihai/Shutterstock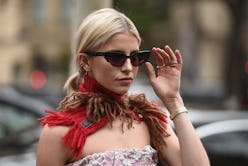 We all have that one person in our life who is practically impossible to shop for because there's seemingly nothing she doesn't already own. Her closet is complete with the latest it bags, must-have shoes, and covetable designer clothes. Her jewelry box is overflowing with bijoux, which she wears with the nonchalance of a woman who has fineries to spare. So what gift do you get the woman who has everything? Your options are twofold: You can either go all-out luxurious with something frivolous and expensive, or you can go the creative route and get her something that is bespoke or experiential.
Consider her interests as a jumping off point. Is she a style influencer in the making? Book her a session with a photographer so she can generate some chic photo content for her Instagram. If she loves to travel, she might get a lot of use out of an Airbnb gift card. For the art aficionado, get her a cool print or tickets to tour the Met Museum when it's completely empty. Is she obsessed with décor? Cater to her mind for design with an opulent showpiece of furniture or a flower arrangement that never dies. If she's a diehard fashion-girl, you can still get her something to wear, but it's better if it's custom or something she probably wouldn't buy for herself. Read on for more unique gift ideas that even the most difficult-to-buy-for woman will appreciate and enjoy.
We only include products that have been independently selected by The Zoe Report's editorial team. However, we may receive a portion of sales if you purchase a product through a link in this article.
An Over-The-Top Armchair
Gucci's Octopus-print armchair is a whimsical conversation piece just begging to be put on display in some stylish woman's abode.
Membership To The Wing
For the fiercely feminist professional woman, The Wing is the ultimate clubhouse. Gift her with membership access to all their locations so she has a go-to spot on business trips.
An #OldCéline Treasure
For the Philophile, a piece from a past Céline collection is absolute gold — and something she could never have too many of.
NikeLab Bespoke iD Custom Sneakers
The way to a hypebae's heart? A pair of kicks specially designed just for her. NikeLab's Bespoke iD service is by appointment only, and allows you to customize your own sneakers from three iconic silhouettes and 400 premium materials.
A Fashion Blogger Photoshoot
Help her build her personal brand by booking a consultation and photo shoot session with a street style-minded professional photographer.
A Blinged-Out Novelty Clutch
What do you get the woman who has everything? Something entirely impractical. A bedazzled '90s-style cell phone clutch is next-level. Only the most extra need apply.
An Aura Reading
Here's something simple, inexpensive, and fun: Take your mystic-minded friend to get her aura read at Chinatown's go-to spot, Magic Jewelry. While you're there, pick up a few crystals to align your Chakras.
A Safari Adventure
Give her the gift of adventure. Rothschild Safaris offers a range of of safari packages, but its 19-day Travel + Leisure World's Best Safari is the ultimate pick. This premium tour guides you from Zambia to Botswana, Tanzania, Kenya, South Africa and beyond, with an exciting itinerary of all the must-see, must-do activities and accommodations in the most breathtaking luxury properties.
The Coolest Skateboard Ever
Even if she doesn't know how to skateboard, this Hermès deck is cool enough to mount on the wall as an art piece.
A Private Museum Tour
Ever wondered what art museums are like when no one's there? Take the EmptyMet Tour. Guests get the chance to explore the quiet halls of the Metropolitan Museum of Art before it opens to the public.
A Smart Fitness Mirror
For the fitness fanatic, this is the holy grail of home gym amenities. The Mirror is a smart mirror that looks sleek and modern when not in use, then becomes your ultimate workout companion with virtual classes and built-in progress trackers for when you want to break a sweat.
Create A Custom Fragrance
Every woman should have a signature perfume, so reserve your friend an appointment at The Scentarium. She'll get a personalized consultation with a fragrance expert, learn about the chemistry of scents, and create her own one-of-a-kind blend to take home.
A Floral Centerpiece You'd Never Know Wasn't Real
Flowers are nice, but these porcelain blossoms might be even better. She'll never have to replace them, and they'll look stunning as a centerpiece when she invites all her chic friends over for dinner parties.
Give Money To A Women-Led Business In Her Name
Instead of spending money on things she doesn't need or want, put your funds to positive use and give to a female-led start-up in her name. iFundWomen is a platform exclusively for women-run businesses, so you're sure to find a project that speaks to your friends interest, and you'll both be doing good supporting your fellow women.
A Monthly Assortment of Wines
When she redeems her gift certificate, she'll be able to complete her palate profile online, and then every month a new box of wines tailored to her tastes will arrive at her door. (And that's when you'll invite yourself over.)
An Appointment With Celeb Hairstylist Jen Atkins
Now you too can have hair like a Kardashian or a Hadid, courtesy of their go-to stylist Jen Atkins. But, what's even better, this gift is both pampering and charitable. The cut-and-style package cost covers an appointment for two people, and benefits children in need through the Baby2Baby organization.
A Limited Vintage-Edition La Mer
She might already have the original jar, but this throwback packaging deserves a spot on her vanity. Besides, can you ever really own too much Crème de la Mer? (The answer is no.)
An Eye-Catching Art Print
Head to art and antiques mecca 1stdibs to score a cool print even the biggest art snob will want to hang on her wall.
A Luxury Getaway To A Castle In Hudson Valley
This is as close to British royalty as you can get stateside. If you're near the east coast, gift your lavish friend with an escape from the city for a one-night stay at Castle Hotel & Spa in Tarrytown, New York, including a roundtrip helicopter ride from midtown Manhattan, a 5-course meal at the castle's renowned restaurant, a 90-minute massage for two. Prosecco and strawberries will be waiting for you upon arrival.
A Touchable Throw For The Luxe Lounger
The epitome of wealthy glamour is not getting out of bed for less than a million dollars, right? So now she'll have a luxurious blanket to cozy up in while she lounges.
A Made-To-Order Bag She Designs Herself
Her bag collection may be huge, but this one is different. Spoil her with a one-of-a-kind bag she customizes to her exact desires, down to the style, material, texture, color, and embellishment.
A Sleeping Bag That Takes Glamping To The Next Level
Maybe she'll actually agree to go camping if she can do it in a Louis Vuitton sleeping bag. Maybe...
A Moment Of Self-Care
There is nothing more valuable than our mental health, so give her an excuse to destress and recharge from her busy life with membership to MNDFL's meditation classes.
A New Pair Of Shoes Every Month
Calling all Carrie Bradshaws: This fantasy gift from Net-a-Porter is a shoe-lovers dream. She'd probably buy a new pair of shoes anyway, so this couldn't be more perfect.
A Gift Card For Her Next Vacation
Usually gift cards can feel impersonal, but this is one she'll actually use. Fund her next adventure, wherever it may be, with credit to book on Airbnb.