Where To Shop For Jewelry Gifts That Look Super Luxe (But Are Actually So Affordable)
Frankie Shop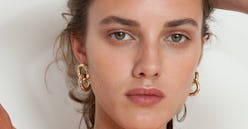 It may be hard to believe, but Thanksgiving is only weeks away, which means that the season of giving is just around the corner. Whether or not you're waiting until Black Friday to officially begin your holiday shopping, it's never too early to, at the very least, start thinking about what you'll be getting for each of your loved ones. And if you're looking for a foolproof gift for any of the women in your life, you can never go wrong with a beautiful piece of jewelry. That said, not everyone can afford to buy fine jewelry for every person they want to. Luckily, you can find some of the most stylish jewelry gifts for $100 or less, which takes some of the stress off of you (and your bank account).
Let's face it: Buying jewelry for someone else is often easier said than done, but there are always a handful of pieces anyone can appreciate. From timeless, everyday classics such as a pendant necklace to earrings reminiscent of works of art, the fashionable women receiving these gifts are bound to love whatever you give them — and they'll never believe you bought them without spending a major fortune.
For the ones who prefer baubles for their everyday occasions, these $84 Link Earrings from Laura Lombardi will complement any outfit, whether it's a standard uniform of jeans and a T-shirt or a party dress. Or, gift them this minimal Gorjana Chloe Charm Necklace, $55, which can be worn on its own or layered with a number of other necklaces for the coolest jewelry look. In the chance that the recipient prefers to wear rings, look to Bing Bang NYC for affordable pieces. This Tiny Marquis Ring, in particular, is not only timeless but looks so much more expensive than $78.
If your crew already has their set of jewelry staples, it's time to start looking for some statement-worthy additions to their collections. This colorful Emerald Dangle Necklace from Alex Mika will add a touch of color to anyone's outfit while still keeping a relatively minimal approach, and costs $100. Shopping for someone with a bolder aesthetic? A pair of cool, contemporary earrings such as these $26 Mixed Asymmetric Earrings from Mango or Rachel Comey's Kip Lilac Marble Earrings, $95, look both modern and polished. The best part? They'll feel like wearable pieces of art.
With a bit of extra browsing, finding chic pieces of jewelry that look anything but cheap is easier than it sounds. Get a head start on your shopping for the season and scroll down to see more of the most beautiful jewelry gifts anyone in your life will love. Soon enough, you'll be dubbed the best gift-giver among your friends and family.