6 DIY Face Masks That Will Solve All Your Skin Woes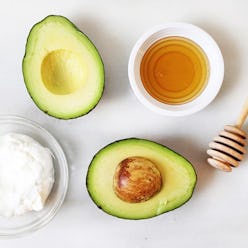 Searching for the right skincare products can quickly become overwhelming—especially when it comes to face masks. The beauty market isn't always budget-friendly, and many face mask prices are particularly out of reach. Fortunately, certain DIY masks have plentiful skincare benefits, and they use ingredients you already have in your kitchen pantry. Here, six DIY concoctions that will treat different skin concerns—all from the comfort of your own home.
Read more: The Benefits Of Lemon Water For Skin Include A Brighter, Clearer Complexion
At-Home Pampering
For Dark Spots And Pigmentation
Lemon juice and almond oil are great natural remedies for pigmentation and dark spots. Rich in Vitamin C, lemon juice promotes brightening effects. Almond oil contains an abundance of Vitamin E, which is great for hydrating and softening the texture of the skin.
For Rough, Dry Skin
Avocado helps combat dry, rough skin. It has the ability to moisturize the skin with omega fatty acids, enhancing the production of the skin's natural oils. Olive oil further penetrates the skin, delivering the hydrating effects of avocado in higher doses.
For Oily Skin
Both oatmeal and lemon juice can assist anyone who has naturally oily skin. The combination of the two helps balance the oil production levels in your skin. Lemon juice can also draw out impurities, while oatmeal works as a light exfoliant.
For Blemished, Acne-Prone Skin
As unfortunate as blemishes are, they're a fairly common skin concern. Squash contains Vitamin A, Vitamin C and fiber—boosting the skin's natural collagen production. Tea tree oil and honey fight bacteria, and therefore combat acne. However, it's important to note that tea tree oil can dry out your skin, so it's absolutely necessary to use just the suggested amount.
For Red, Inflamed Skin
Coffee is effective at reducing redness and inflammation. Caffeine is known to be a powerful antioxidant and helps protect the skin from harmful UV rays. This mask makes the skin more radiant by repairing any environmental damage and fighting free radicals.
For Dull Skin
Don't settle for dull skin! Get your complexion glowing with this combination of super-foods. Papaya is coined as "the fruit of the angels" for a good reason: The papain enzyme is a natural exfoliant found in the skin of the fruit. It helps rid skin of dead cells quickly, while egg whites shrink the appearance of pores and tighten the skin.