The Next Glamping Trends Include Shipping Containers And Luxury Tents
Globe Guide Media Inc/Shutterstock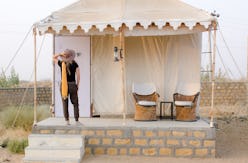 With the wanderlust movement at an all-time high, travel is becoming more and more innovative by the second. It seems every day there's a new way to experience and discover uncharted territory. Case in point: the glamping trend that's risen in popularity in recent years.
What started out as simple upgrades for more "glamorous camping" experiences via luxurious cabins and souped-up Airstreams has turned into a full-blown phenomenon. "Glamping is an opportunity to connect with surroundings and experiences with luxuries of comfort and facilities that wouldn't be available in a traditional campground setting," says Laura Golding, event manager for the Global Glamping Summit. "It's truly a unique blend of hospitality, adventure, wellbeing, and, ultimately, a unique gateway to the great outdoors."
And while experiencing a new location and natural setting can absolutely be done with a traditional tent, hotel, and/or RV, travelers are increasingly seeking "unique experiences and to feel more present in that emotional connection," says Golding. "Four walls of a hotel room can provide a level of comfort — but guests want more."
And they are definitely getting more. Hospitality businesses are getting incredibly creative in how they provide a one-of-a-kind getaway to curious travelers, ensuring they get the ultimate trip of a lifetime, while also feeling like that are able to truly retreat from their busy day-to-day lives. This has manifested in everything from expansive, amenity-filled treehouses to completely furnished pop-up tents that include luxe bedding, lounge areas, and, of course, a s'mores kit.
"Glamping allows you to disconnect without the need to travel too far," says Golding. "It is exciting that there is no defined customer category so the creative possibilities for glamping operators to provide a unique experience really are limitless."
Ready to experience travel (and self-care) in a whole new way? Ahead, check out the biggest glamping trends of the year that will make you want to pack up and explore some new ground (even if it's in your backyard!).
Tents, Treehouses, And Domes — Oh, My!
"We are seeing immense creativity in the build of glamping structures," says Golding. "Enthusiasts are pushing the boundaries on accommodations. We're seeing treehouses, spheres, and even shipping containers come to life as remarkable glamping structures."
FYI: Many of these structures can be experienced in the U.S. or Canada, so you don't need to go too far — or spend too much — to try out one of these cool structures. Companies like Ridgeback Lodge allow you to rent domes (similar to the above) for as little as $155 a night.
City Glamping
"We are also seeing a huge trend in inner-city glamping, showing that the sky is literally the limit," says Golding. "We are also excited that hotels/resorts are starting to offer glamping to draw more modern guests seeking unique accommodation options — and we're seeing the same at RV parks, too."
That means city-dwellers can enjoy the comforts/landscapes of home while still feel totally disconnected, thanks to companies like Collective Retreats, which allows "luxury to coexist with ruggedness, for fine dining to happen under the stars, and for people to connect to a place and to those around them."
Uncharted Territory
For those with an adventurous spirit and looking for new ground to uncover, consider an atypical glamping excursion (that doesn't include Iceland or Paris). "We have seen some really innovative concepts all over the world and we are seeing sites pop up in Alaska, Slovenia, and Mexico," says Golding. "You name it, there's a place waiting for you."
More specifically, Slovenia ranks 6th in Europe for the most glamping locations, according to Glamping.com, making it an up-and-coming hotspot for glampers. According to a Glamping.com article on the top glamping trends for 2018, "Some examples of Slovenia's glamping experiences have the environment in mind, and also involve staying on an organic family farm, ethnological eco-resorts, a luxury herbal camping experience, and romantic pier tents and treehouses." Sorry, Iceland.
Think Outside The Instagram
More and more, people are looking for experiences that are personal and exclusive, rather than those that are trendy and Insta-worthy. "While many glamping travelers want that incredible 'Instagram shot', even more so they want to immerse themselves in an experience unique for them," says Golding. "Glamping search sites allow you to search by the criteria that will make your experience perfect for your customized, ideal getaway."
Sites like Glamping.com literally allow you to hand-pick your next getaway by experience as opposed to location (although you can do that, too). ATV excursions, fly-fishing, wine-tasting, and horseback riding can easily be the central focal point of your trip, along with the unique luxe accommodations that tie everything together.