6 July Nail Trends With Nary A Star Or Stripe In Sight
Imaxtree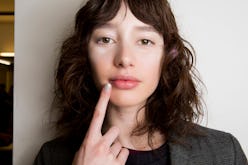 Back in the day, there was no greater feeling than switching out your regular nail polish for an on-theme manicure: heart-shaped art for Valentine's Day, Kelly green polish for the St. Patrick's Day parade, and — of course — red, white, and blue for the Fourth of July. Maybe with a glittery accent nail thrown in for good measure. And even though nostalgia is decidedly trendy at the moment (hello, low-rise jeans), the themed manis of your youth probably still feel a little too cheesy to recreate in adulthood. Which is why experts' top picks for July 2019 nail trends have absolutely zero to do with stars and stripes.
Taking the place of the usual patriotic motifs? Slightly left-of-center options. Instead of red, expect to see a lot of "hot, fiery" orange, Jackie Saulsbery, a celebrity nail artist who works with Adele and Queen Latifah, tells The Zoe Report. "This color also works well for a pedicure," she says. (I can confirm; OPI's Pants On Fire! is on my toes right this minute.) Royal blue may be a tad bright, but the more subdued "favorite-blue-jeans blue," according to nail care entrepreneur Sarah Gibson Tuttle, the founder of Olive & June, is muted enough to wear with anything — kind of like your go-to cutoffs. If you really want your nail art to nod to Independence Day, try using the trio of colors in an unexpected way. "Tie dye nails are fun and can be created with red, white, and blue for the Fourth of July," Betina R. Goldstein, an editorial nail artist, tells The Zoe Report.
Ahead, six unexpected nail trends to try for July — from a fresh take on nude to negative space nails to the easiest DIY art ever.
Fiery Orange
"One nail trend for July is orange — it's bold and bright for the hot nights and summery weather," Saulsbery says. Her favorite shade is Hibiscus from Gabriel Cosmetics, a non-toxic polish brand. "It dries in minutes and you can give it one coat and walk away with a beautiful, fun summer color to enjoy," she says.
Tie Dye
"I think tie dye nails are going to be everywhere this summer," Goldstein says. Sure, the traditional tie dye colors — pink, orange, lime green, yellow — always work, but why not switch it up? The nail artist recommends swirling pastels or contrasting glitters together for a fun twist.
Shimmery Nude
"Barely-there, shimmery nude nails are having a huge moment," Mazz Hanna, a celebrity nail artist who works with Emma Roberts, tells TZR. "It looks great on freshly sun-kissed skin and is a more playful alternative to traditional nude nails." She's a fan of Positive Times High-Vibe Polish in Moonstone. "I just used this polish on Minnie Driver and she was obsessed," the manicurist says.
Playful Stickers
"Another trend I've been seeing is nail art, specifically, stickers," Saulsbery says. "You can get find an assortment of cute nail stickers online." The best part about this lazy-girl mani hack? So long as you apply the decals to a solid base, you can peel them off and switch them out as often as you like.
Abstract Geometric Shapes
"Abstract geometric negative space manicures are also trending for July," Hanna says. "The look is fun and free, just like summer should be. It's also a great option for vacation nails because growth and chips are less likely to show."
Blue Jeans Blue
"We are seeing a lot of color — pinks, corals, blues, purples, and more — on manis right now," Gibson Tuttle tells The Zoe Report. Olive & June's own summer collection offers pretty much every shade you'd need for a multi-color manicure, from "a perfect white" to "a beach-y peach" to "favorite-blue-jeans blue;" all of which are available in the brand's Summer Set. "Our current mood is vacay every day," the founder says. "Fun, bright manis capture exactly how fun and free we are feeling."