Thought You Couldn't Pull Off The Tie-Dye Trend? These 7 Outfits Will Prove You Wrong
Christian Vierig/Getty Images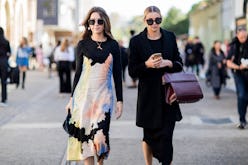 Ready to play a little word association? When you hear the term tie-dye, what first comes to mind? Maybe a crowd of Jerry Garcia fans or a backpacker in Birkenstocks. But in 2019, tie-dye is the trend every fashion insider — editor, influencer, or otherwise — is adding to their wardrobe. Now, before you write it off as a little to crunchy for you, in the last year or two tie-dye has gone through something of a Cinderella transformation.
Thanks to the likes of Proenza Schouler and Altuzzara, tie-dye feels — dare we say it — sophisticated. A mix of fitted midi dresses and a selective color palate help refine and reimagine the colorful look for the new year. While you can count on downtown brands like Eckhaus Latta and R13 to offer the deadhead-cool iterations of the trend (denim brand Jordache even re-launched an entire tie-dye denim collection for Spring 2019) for those who want something fancier, believe it or not, you have options. The key to dressing up this trend is to mix and match more pared-down tie-dye pieces with a tailored blazer or sleek pair of boots — pieces that create a sense of sartorial balance. So, cue up Friend of the Devil on Spotfiy, and read on for all the inspiration you'll need to tackle the Spring trend that will leaving you feeling a little bit more Groovy in the months to come.
Try Just A Splash Of Color
If tie-dye to you is an overwhelming swirl of sherbet hues, try easing into the trend with something a bit simpler, a sleek dress with a toned-down tie-dye detail. Proenza Schouler has mastered this take with its playful-yet-subtle tie dye pieces.
Layer A Slip Dress
One easy way you can bring tie-dye into cooler months is with strategic layering. While bright yellows and oranges might not be the usual hues for winter months, try layering your tie dye slip dress over a turtleneck or Heat Tech. For extra chilly days, throw a chunky knit over the top.
Pair With Jeans
One easy ensemble you can always fall back on is pairing a bright tie-dye tee with a pair of jeans. High-waisted vintage jeans are ideal for a weekend look while if you're looking to venture into groovy workwear, sleek black jeans are the way to go.
Stick To Neutrals
A surprisingly sophisticated way to wear tie-dye is to skip those high-saturation colors for a bit more of a neutral take. A simple skirt or pair of pants in a stripe pattern are easy to style with a button-down or chic sweater.
Try Ladylike Silhouettes
Since tie-dye can traditionally come with a grungier reputation, one simple way to help balance that out is to keep an eye out for more polished silhouettes. A midi dress or collared button-down both make for non-traditional picks.
Take It Up A Notch For Nighttime
Believe it or not, tie-dye is the ideal way to freshen up your going-out look. Swap out your standard LBD for something with a pop of color and you'll stand out from the Chardonnay-toting crowd.
Wear With Polished Pieces
Prove to those in doubt that tie-dye can be sophisticated by styling a simple two-tone style with polished workwear pieces like trousers and a tailored blazer. Mix and match colors for a bolder look, or stick to neutrals for the most pared-down take.
Shop More Tie-Dye Picks