This Fashion Week Nail Art Trend Is Ridiculously Simple (And Chic)
Imaxtree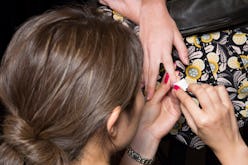 Nail art aficionados tend to fall into one of two categories: those who adore elaborate designs, and then people like me. Personally, I love a good nail design but I wasn't blessed with a steady hand, or the patience to pretend like I have one. So I tend to leave the designs up to the professionals out of fear of royally messing up my polish job. But backstage at Prabal Gurung's Fall/Winter 2019 show in NYC on Feb. 10, there was hope for for folks with twitchy fingers who still love themselves a simple nail art trend.
Nail artist Miss Pop, working with Zoya, created a design that just about anyone can recreate. While some of the models would be getting a solid shade on their nails, some received a swoop design. Miss Pop started with a base coat before applying two coats of Zoya nail polish in Vanessa in a sort of diagonal half-moon shape. "[Vanessa] is fall's answer to hot pink," she told The Zoe Report. "The color is like if you kissed a raspberry. That's the color that would show up on your lips." She then topped the shade with a glossy top coat to seal everything in.
The key to pulling this design off at home, Miss Pop says, is the quality of the brush in your nail polish. "Over the past few years, so many nail polish companies have transitioned their brushes to these fat brushes that aren't very flexible," she tells The Zoe Report. "You can't use them if you've got a smaller nail bed, and they are terrible for nail design." The key is to find a brush — whether it's already in a polish or a brush that you buy on your own — that is small and flexible.
Once you've got your brush on lockdown, there are two ways to paint on this swoop, according to Miss Pop. If you're interested in free-handing the art, place your brush about two-thirds of the way down the nail. "Then just swipe up, following the natural curve of the nail," Miss Pop explains.
You should start the swoop in the same spot for every nail in order to keep it cohesive. "That said, you do want the same amount of polish on every nail, regardless of how long or short each nail is," she notes. So two-thirds of the way down is a good jumping off point, but you might need to adjust if you've got nails that vary greatly in length.
A little skittish about free-handing the design? You can still get the look easily at home. Miss Pop suggests picking up a pack of nail art guide stickers. "Place them about where you'd like the bottom of your swoop to be, so, again, two-thirds down the nail, and then paint on your polish," she said.
The beauty of this technique is that, since the shape is already in place, thanks to the sticker, you can paint your polish on straight up — not in a complicated swoop. Then, just wait for the polish to be dry to the tough, and peel off the sticker.
See? There's no longer a reason to be scared of an at-home nail art moment. This swooping design proves that anyone can be a nail artist, no matter how shaky your hands are.