The Spring 2019 Nail Trends That You Should Already Be Wearing
@alyssainthecity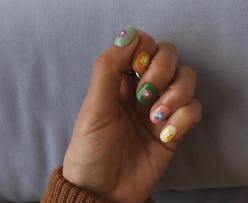 There's something about the impending arrival of spring that just feels energizing — I mean, the word itself means "to move forward." It's a season of fresh starts and new beginnings; and for fashion girls, it's the perfect opportunity to update your look. Why not start with one of these seven spring 2019 nail trends?
The most popular manicures for March vary from state to state and city to city, but nail art enthusiasts across the country can all agree on one thing: It's time to put away the dark, moody polishes. On one side of the spectrum, ladies in Los Angeles and Denver are leaning towards natural looks. "We love a neutral mani any time of year, and especially in spring," Sarah Gibson Tuttle, the CEO and founder of LA's Olive & June salons, tells The Zoe Report. To this end, the brand is launching its first-ever collection of polishes — a range of neutrals — on Mar. 14.
On the other hand (pun fully intended), New Yorkers and Miami residents alike favor bolder colors and eye-catching designs. "Not only are neons and pastels going to have a comeback this spring, I also anticipate the longer, more round or oval nail shape will be making a comeback as well," Elaine Lee, the lead nail technician at Valley Nails in New York City, tells TZR.
Ahead, discover the nail art popular in your city for March 2019 — and get a head start on the season's new vibe.
Los Angeles: Natural Nail Art
Trending in the City of Angels? Low-key neutrals, according to Gibson Tuttle. "They look really, really good on everyone," she says.
"Additionally, having fun with nail art is back in, especially telling a story across a few nails," the founder shares. When it comes to spring-inspired designs, anything goes. "Fruity nail art is so fun and fresh, and floral nail art feels so very spring — especially mixing the wildflower stickers from our In Bloom sticker pack," Gibson Tuttle says.
New York: Neon And Geometric
"New York breeds artistry and expression, so it's no surprise that the women of this city are setting trends through creative outlets like nail art," Lee tells TZR. She anticipates two key styles for NYC girls: neon polish (think slime green and traffic cone orange) and geometric shapes — or even better, both at the same time. "Use a neon color as a base and apply some geometric shaped decals to create a fun pattern," the nail tech suggests.
Chicago: Bold Colors And Patterns
"It's fair to say women in Chicago love to reinvent trends and stand out from the crowd," Yessica Hernandez, a nail specialist at The Red Door Chicago, tells The Zoe Report. The brighter, the better in the Windy City — and for nails, that translates to "a mix of bold color choices, sparkles, and geometric patterns."
"Colors like flamingo pink, Tiffany blue, and soft lavenders will be mixed with iridescent gems and eye-catching patterns, like printed nails with fashion logos or art-inspired elements," Hernandez says.
Denver: Pop Of Glitter
"I think for spring 2019, a big nail trend will be a very neutral, almost natural nail with just a little pop of nail art or glitter," Amanda Lazaroff, a nail artist educator at Denver, Colorado's Base Coat Nail Salon, writes in an email to TZR. "Women are loving the abstract nail art trend right now, and it pairs perfect with a neutral nail." Lazaroff maintains the look is easy to pull off on your own — just apply a few coats of a nude polish and "add a little pizzazz to a couple nails," she says.
Miami: Leopard And Pink
Miami is always good for an eye-catching look, and spring is no exception. "Leopard works as a neutral," Ariela Zuniga of the city's Vanity Projects salon tells The Zoe Report. "It's a fun upgrade to a nude mani."
"Since it's always warm here, colors connect people to the season," she adds. "Pink is a classic fave."
Austin: Matte And Geometric
"Austinites are loving loving geometric nail art and matte finishes," Carla Hatler, the founder of Lacquer in Austin, Texas, tells The Zoe Report.
It's easier than you think to apply on your own, too. "Simple geometric lines are easy to do with a thin paintbrush that you can find in any craft store, and almost every major nail polish brand makes a matte topcoat," Hatler says.
Raleigh: Pastel Polish
"Spring flowers are starting to blossom early here, and in Raleigh that means an array of pastel colors," Crystal Clark of Nail Yeah in Raleigh, North Carolina tells The Zoe Report. "My clients are already asking for pastels and hand-painted designs."
While you may be better off asking a nail technician to take care of the design element, Clark has a genius hack for nailing a DIY mani. "Women at home can try this look by alternating different pastel colors of the same hue on different nails," she suggests. Or, choose 10 different soft, muted shades — because nothing says spring like a rainbow, right?