This Genius Tip For A Healthier Home Will Cost You Nothing
Elena Kharichkina/Shutterstock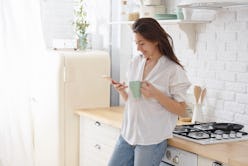 Between shopping strictly clean beauty brands and seeking out the best organic food and beverages to stock the fridge, wellness conscious folks are really starting to overhaul every facet of their life in order to be their best and healthiest selves — not to mention help save the planet. Still, there are likely a few things lurking around the house that could be holding you back from that goal. Thankfully, with a few tips for a less toxic household, you can transform your home as easily as you did your makeup bag.
Ashleigh Frager, homeopathic practitioner and founder of Back to Basics, came upon her line of work out of necessity. After struggling with her own health issues, she began researching and testing products, and found that the toxic chemicals in common household items — including beauty and cleaning products — could cause issues including infertility, allergies, depression, and more. This led her to eight years of working with clients who needed help transforming their lifestyles to remedy their own ailments, at which point it was clear that focusing on how to detoxify the home — specifically by offering non-toxic products — was the best way to share what she'd learned on a larger scale.
Enter her online shop, which features a ton of healthy products for both your personal care and home — including her own concoction, a multi-purpose cleaner and air deodorizer. With her expertise and personal background, who better to advise on what to ditch and what to shop now for a home that'll keep you a whole lot healthier? Ahead, find her five suggestions for things you can do ASAP to achieve a less toxic household.
Toss Anything With "Fragrance"
"'Fragrance' is a catch-all term that signifies that there could be anywhere from hundreds to tens of thousands toxic, unregulated substances in the ingredients," Frager says. "Many of the ingredients hiding under this label have been linked to cancer, birth defects, hormonal imbalances, and allergies. Some of the worst culprits are phthalates, polyethylene glycol (PEG) compounds, and formaldehyde. One of the most impactful steps you could make to clean up your household is to remove all cleaning, personal care, or home products with 'fragrance', 'parfum', 'fragrance oil', or 'natural fragrance' listed on the package."
Open Your Windows
"Indoor air pollution can be up to five times worse than outdoor air pollution, according to the Environmental Protection Agency," explains Frager. "If you've been using conventional cleaners or fragranced products, the level of indoor air toxicity increases significantly. One of the easiest and cost-free ways to improve indoor air quality is to open up your space to the outside!" If you've got the budget for it, you could also up the ante by investing in an air purifier.
Filter Your Water
Your air isn't the only thing that needs a little purifying. "The water flowing out of our faucets can contain a wide variety of unwanted substances like chlorine, fluoride, pesticides, and prescription drugs," says Frager. "It is important to filter out as many of these as possible before consuming them or allowing them to enter our bodies through our largest organ, our skin." And for her money, there's one on the market that's better than the rest. "Unlike many filters that only provide the most basic filtration of our water, The Berkey Filter is an advanced system that successfully eliminates the most harmful contaminants," she adds.
Swap Out Toxic Cleaning Products
According to Frager, the cleaning products in your cabinet could be one cause of a wide variety of common health issues. "Laundry detergent, all-purpose cleaners, glass cleaners, bleach, dish soap, and dryer sheets are amongst the top culprits," she says. "Opt for natural products and avoid options that include sodium lauryl/laureth sulfate (SLS/SLES), fragrance, or methylisothiazolinone in their ingredients lists. A good trick is to avoid any cleaners that are an unnatural color. If they are using artificial dyes in their formulations, you can assume they are most likely using other toxic ingredients as well."
Ditch The Plastic
"Exposure to the chemicals in plastic can happen either by leaching into beverages and food that we consume or through off gassing," Frager explains. "BPA and phthalates, some of the most dangerous ingredients in plastic, have been linked to everything from cancer to heart disease to miscarriages to fertility issues in men and women alike. Glass and stainless steel are safe alternatives and should be used as a replacement to plastic whenever possible." Eliminate single-use plastic when you can, and invest in a few refillable bottles and containers for home and personal care use.