5 Nail Trends To Try If You're Already Tired Of White Polish
Imaxtree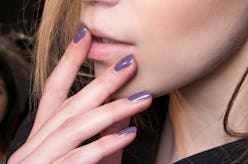 "I'm not a fan of gradually moving into summer," Rita Remark, essie's Global Lead Educator, tells The Zoe Report. "By the time spring is over, I'm ready to kick down the door and run headfirst into hot weather, beach days, and cold drinks." She takes that same approach when it comes to the summer 2019 nail color trends — which is why she wants you to break out your boldest shades ahead of summer break. "I love wearing neon this time of year," Remark says. "It leaves no room for subtlety — just vibrant, unapologetic color ready for the sunshine."
Pro manicurists all over the country agree that neons are definitely trending, and there's no shortage of shades to try — fuchsia, orange, and highlighter yellow are just a few nail that pros love right now. Blinding brights not your thing? No problem. "I think neon can be intimidating, but I'm loving pops of color on neutral bases," Eleanor Langston, the Chief Creative Officer of New York City's Paintbox Nails, tells TZR. The salon's newly-launched Flying Colors mani offers a chic introduction to day-glo shades for the color-shy.
Ahead, seven June nail colors that'll make for head-turning fingertips — there's not a timid neutral or plain white polish in the bunch.
Periwinkle
"I believe a soft periwinkle color is going to be popular for summer for those [who don't want] something that attention-seeking, but still want a trendy color," Hang Nguyen, a pro nail artist, tells The Zoe Report. The soft purple shade rides the line between the season's two biggest trends: pastel and neon.
Rainbow Neons
"Fluorescent violet, pink, orange, and green are so outrageously in-your-face bright and fun that you don't need to accessorize — they literally make an outfit," Remark says. Why choose just one? "Rainbow nails, like the ones you polished on yourself as a kid with each nail a different color and the result made you so indescribably happy, are now perfectly acceptable (if not encouraged) to wear as a full-grown adult," according to the manicurist… and Kendall Jenner.
Neons On Neutrals
"We are already starting to see our clients transition to brighter, bolder colors for an early start to summer," Langston says. "Our summer collection launched May 28, and the theme is Flying Colors — sheer bases with pops of linear and graphic neons, such as highlighter yellows, bold fuchsias, and vibrant limes." Sensing a theme, yet?
Yellow
"I think the big nail color for June is going to be yellow," Alicia Torello, an editorial manicurist who's worked with Proenza Schouler and i-D Magazine, tells TZR. "Everyone is still kind of feeling the 'slime' trend, but going a little softer and looking for something new."
Marbled Pastels
"Pastels are trending, and the lava design is popping up everywhere," Yiota Kourtesis, the manager of New York City's Chillhouse salon, tells The Zoe Report. "The look is light and airy, and matches a lot of the spring and summer outfits."
Shimmering Purple
"The biggest nail color trend for June is purple," Maria Vlezko — AKA @so_nailicious on Instagram — tells The Zoe Report. The manicurist just got back from Australian Fashion Week and says every variation of the color made an appearance on the runways, "from delicate, light pastels to vibrant, shimmering, bordering-on-fuchsia purples. It's wearable and incredibly flattering, especially the darker shades."
Iced Coffee
Finally, for those not craving color this month, a not-so-neutral neutral: iced coffee. "I'm seeing gorgeous taupes for the 'coffee look,'" Jackie Saulsbery, a celebrity nail artist whose clients include Adele and Queen Latifah, tells The Zoe Report. "It looks amazing on the hands and feet for a fresh spring or summer style." On May 23, Dunkin' launched a nail polish collection in collaboration with nail artist Lauren B. for a literal interpretation of the trend.