Kendall Jenner Just Tried The Boldest Manicure Trend For Spring
Stewart Cook/WWD/Shutterstock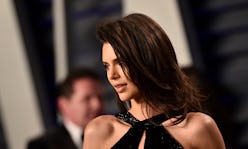 Spring has officially sprung, cueing fashion girls everywhere to unearth brightly colored pieces that were stowed away to make room for shades of beige throughout the winter months. But regardless of what the calendar says, temperatures are still pretty mild, so before you tackle your spring wardrobe and get reacquainted with floral print, color blocking, and candy-colored sandals, start off your seasonal style shift with a vibrant manicure. Adorning your nails with a bold color is a simple nod to the fresh blooms that will be here in no time, and Kendall Jenner's rainbow nails offer the ultimate inspiration.
The bold beauty trend that caught on last year is still going strong, with fashion editors and celebrities alike rocking the whimsical look. Even Rihanna opted for an array of pastel polish on her 31st birthday, and Jenner is the latest tastemaker to make a case for the playful beauty vibe.
The model took to Instagram on Tues. to show off her rainbow mani courtesy of Modern Pamper Salon in Los Angeles, revealing square-shaped nails of red, orange, blue, green, and yellow. The 23-year-old is clearly maintaining a childlike spirit when it comes to beauty — because why choose one color when you can have 'em all?
If you're feeling apprehension towards the lively trend because loud colors aren't your go-to, opt for a more muted variation. You can easily choose a pastel, primary, or neutral polish, and the color-spectrum mani will still serve as a pleasant surprise this spring.
Whether you're going all in with vibrancy in the fashion sphere, or keeping your closet within an understated color family, the rainbow mani is an ideal, model-approved accent for the season. Ahead, shop The Zoe Report's roundup of top-rated nail polishes that will help you pull off the playful look in a snap.
Shop The Look