The Pro-Approved Way To Rock Instagram's Favorite Nail Trend
instagram.com/laurencaruso_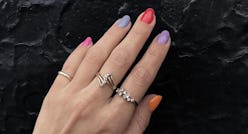 Come spring, there's no shortage of beauty trends that involve shedding dull and dim hues for brighter tones. That's why this newfangled rainbow nail trend doesn't necessarily come as a surprise — the world has waited for an occasion to done color. So why not wear all of them?
On first thought, you might relate a multicolored manicure with the bright, cotton candy shades from your childhood. But today, more subdued color combinations work just as well if you're not ready to go all of the way. "I especially like pastel colors, like light blue and peach," New York City-based nail artist Molly Romah tells TZR. "If you're looking to stay within one color family, focus on monochromatic colors in the same hue."
That doesn't mean that you have to go super light to be subtle, though. "Some of the best color combinations that we are seeing right now are nude tones with hints of neon," Vivian Cardenas, the salon coordinator at Vanity Projects, adds.
Or you can simply just pick five colors that appeal to you... because the point of this mani is fro it to look and feel effortless. Plus, there's really no wrong answer when it comes to color. Taste the rainbow, ahead.
Monochromatic Colors
"The best way to choose within one color family is to pair them with your skin tone and play off of that with colors that will pop," Cardenas notes.
Muted Nudes
If you prefer pastels, a color scheme like this one offers great variations in neutral tones. To start, use the lightest shade on your pinky, and gradually increase in color from there.
Simple & Bright
A bright combination doesn't have to involve a multitude of steps — just a simple mixture of solids. And you don't have to do five colors for each fingertip, either. It's all about the art of the placement. "I just did a basic mani and chose three colors that I alternated in the same order, one after another," manicurist Fleury Rose says.
Pastel Tones
"Now that the weather is warm and bright, our artists are seeing clients selecting shades that reflect the moods and environment outdoors," Brittnee Eickmeier, Studio Manager of Frenchies Modern Nail Care in Durham, North Carolina says. Bright shades like pinks, greens, and yellows are reminiscent of spring flowers and the blooming vegetation.
Pink, Purple, & Iridescent Shimmer
A little hint of sparkle goes with any color, any day, and in any way. These press-on nails are awesome because they take the guess work out of having to choose a dozen different polishes... and they're light enough for you to file them down and remove them once you're ready for a new vibe.
French Tips With A Twist
"As a nail artist, I mix and match colors to create the designs I want. But for some brands, it works best to use their base as a topcoat for long-lasting wear," Romah says.