6 Breakout Brands To Know From Australia Fashion Week
Courtesy Sandra Semburg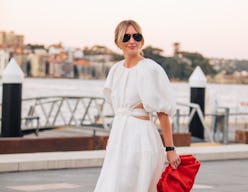 It's a long flight from New York, Los Angeles, and Paris to reach Sydney — the location for Australia's annual fashion week. But that didn't keep editors, buyers, and influencers from making there way down under for a week of resort 2020 shows. "The emerging fashion weeks, like Sydney, are a destination for finding new, exciting brands," explains Lisa Aiken, Moda Operandi's Fashion Director. In her role, Aiken travels to far-flung fashion weeks including Tbilisi, Seoul, and Copenhagen on the hunt for the the coolest new designers. During Mercedes-Benz Fashion Week Australia, new summer trends and emerging designers established the vacation-ready style you can expect to see six months from now. What set Sydney apart from other fashion weeks according to Aiken is its laid-back attitude. "The collections take on a more relaxed attitude, in many ways they cater more to the realities of a modern wardrobe and the pieces we rely on time and again," she says. "One of the major strengths of the week does come from the brands that focus on effortless resort dressing and swimwear; Sydney has beaches in the city and therefore is part of the lifestyle, who better to understand what we want to wear on vacation."
In Australia, it's worth noting that seasons are in direct opposition of the Northern Hemisphere, so the Resort 2020 runways are shown in the middle of winter. This means that the week's presentations offered a host of swimsuits and beach-ready looks that will drop right when summer hits Sydney once again. So, it shouldn't be all too surprising that it was swim brand Matteau's foray into ready-to-wear that caught Aiken's attention. "As a personal fan of the brand since the beginning, I had high expectations for Matteau's first runway show," she explains. "Its simplicity won me over and spoke to my year-round minimalist approach. The fusion of swim and resort ready-to-wear captures effortless vacation and travel dressing."
Balloon sleeves and '90s-inspired designs are both of-the-moment trends for Summer 2019 but, based on the runways, will continue to be popular picks come next year. Aiken also sees a resurgence of skin-baring styles, especially those with cutouts or a style she's dubbing the "exit dress" for its surprising reveal. "Skin is in as naked backs turned the corner at several shows," she notes. "Christopher Esber and Matteau showcased the open back best."
Aiken also highlights Michael Lo Sordo's feather-embellished evening-wear, and the cool tailoring of Anna Quan as standouts from the week. "I have worked with Quan since her St. Georges Next Gen show four years ago and was so impressed to see the evolution of the brand," Aiken says. "I first fell in love with her shirting but it's her perfect blazers, short suits, and button-down dresses that are now the hero pieces."
As for accessories, there were a number of cool brands that helped to establish the must-try styles for the months ahead. "I spend a lot of time in showrooms while in Sydney, and the jewelry trend that stood out is an abundance of chunky chain jewelry," Aiken explains, calling out Sydney-based Petite Grand as a name to know. Footwear newcomer Studio Amelia also stood out to Aiken as one to watch. "Studio Amelia has perfected the city sandal," she notes. "This brand is sure to amass a cult following this season, with her first release now available online."
Whether you plan on booking a trip down under in 2020 or you're just looking to get a jump start on summer style just in time for warm weather in your corner of the globe, these brands can surely help you to achieve your ideal look.