LORAC's Newest PRO Palette Is Launching Soon — & It's Nothing Like You'd Expect
Courtesy of LORAC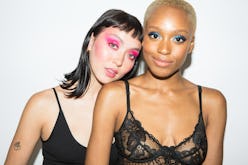 It seems like LORAC has it all figured out. With more than two million Instagram followers and a spot in Ulta's orange-hued beauty domain, the brand consistently releases the pretty, everyday makeup both shoppers and professionals fall in love with. Don't just take anyone's word for it, though; at Ulta, LORAC's PRO Palette — an iconic lineup of neutral eyeshadows — has a nearly perfect rating from over 900 reviews. But something very different is coming, and soon. LORAC's Neon Lights PRO Palette, the brand's first-ever neon-focused PRO Palette, is launching June 4 at Ulta and June 10 on LORAC.com; and it's only just the beginning of LORAC's new venture into the brightest side of makeup.
"Sometimes, to be heard you have to be seen. The nudes of LORAC are effortless and gorgeous. Also, we love bold beauty and you cannot miss the hyper brights of our Neon Lights palette," LORAC SVP Rachel Shelowitz tells The Zoe Report exclusively over email. "The sophistication of the formulas lend themselves to many of the trends starting to break, from the painterly brushstrokes seen in new shadow application to the more abstract color-blocking. Our goal is to offer the highest quality tools that allow people to make themselves into their proudest works of art."
Retailing at $29, LORAC's Neon Lights PRO Palette features 10 shades; four neon mattes, four bright shimmers, and two neutrals perfect for transitioning and layering on color. The entire top row of colors is a show-stopper — from the subtle "Indie" to the triumphantly deep "Blue Note." And while some shoppers avoid such high-volume shades, LORAC's team notes these neons are for everyone. "Bolder, brighter shades can be intimidating, but with extraordinarily formulated products you can create unique looks without a ton of effort. When using bright colors, less is more," explains Molly Smith, Product Development and Marketing Senior Manager.
Smith had one go-to tip for those new to neon, too: Add the electric colors to just one part of an overall neutral makeup look. "Try lining your eyelid lash line or bottom lash line with any one bright shade for an instant and easy pop of color," she says. "One of our favorite Neon shade looks is a supersaturated color all over the lid and blended into the crease. This bold yet feminine look dominated the pink carpet at the Met Gala this year."
And this won't be the last time LORAC turns its spotlight onto bright hues. "Starting now, you will hear and see the volume of LORAC get louder and so it's not an accident that we have kicked that off with our loudest most imaginative palette, yet," Shelowitz says.
Smith also has one tantalizing detail to share. "The Neon Lights palette was inspired by the colored florescent light that neon exudes and while this palette is the only neon-themed product currently planned, LORAC will continue our exploration of bold light. You can expect to see new textures and finishes that are inspired by the light that is exuded from one of the most precious stones on earth," she hints. "Stay tuned!"
Shop LORAC's new Neon Lights PRO Palette at Ulta on June 4 and on LORAC.com June 10.