This Once-Off-Limits Winter Locale Is Now The Top Destination For Adventurous Travelers
Shutterstock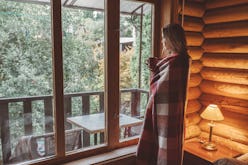 While the thought of a winter respite usually evokes images of clear waters and palm trees, a new travel trend is on the rise. Rather than dodging the chill, wanderlusters are choosing to embrace the elements by opting for cold-weather vacations over tropical escapes.
Perhaps the rise in tourism to places with low temps is due to the increase in off-season travel, more affordable trip planning, or the desire to venture off the beaten path, in general. Michael Edwards, Director of North America for Intrepid Travel, says that, thanks to high demand, his company has debuted several new tours in chilly locales. "As over-tourism concerns are on the rise and people seek new and unique experiences, we have noticed an increased interest from travelers to visit cold destinations or travel in the winter," he explains. "By seeing a country in its off-season, you'll be able to avoid the usual crowds and get a more intimate experience while also seeing a different side to a destination than most visitors get to see."
But no matter the draw, one thing's for sure: Heading to a winter wonderland will get you in the holiday spirit, whether you're seeking awe-inspiring adventure or some cozy R&R. Ahead, travel pros give their top cold-weather vacation ideas for every travel style. Get ready to pack your parka and boots — this year, it's all about being snowbound.
Adventure Aboard An Antarctic Cruise
While vacationing on Antarctica was once a near impossibility, adventurous travelers have increased demand and paved the way for cruises through the continent to become mainstream. "While you won't escape the cold weather at home, a voyage to Antarctica is an experience unlike any other," Edwards points out. "There are few, if any, other places as remote and untouched in the world."
Unsurprisingly, Airbnb and hotel accommodations aren't readily available here, but you can book an Antarctic cruise with companies like Intrepid Travel, and the details will be covered. "Winter in the Northern Hemisphere is the ideal time to visit as it's summer in Antarctica, ensuring temperatures reach just above freezing," Edwards continues. "During this time, the pack ice melts to let ships through and the infamous Drake Passage is somewhat calmer. It's also the perfect season for getting up close with gentoo penguins, migrating blue whales, and baby penguin chicks."
Plan A Ski Retreat In Lake Tahoe, California
If you're looking to stay within US borders, Esther Klijn, a luxury leisure agent who plans honeymoon and high-end vacation travel for CIRE Travel, suggests heading to the West Coast. "Lake Tahoe is an awesome winter playground for adults and kids alike," she says. "There are some 18 resorts to ski or snowboard, so take your pick."
The California native mentions that this is a festive escape whether you live near or far. "California kids (like me!) usually know somebody's uncle's best friend's grandma who has a house in South Lake," she says. "But I think the real gem is North Lake. It's a bit more removed from everything but makes it all the more tranquil." But if you're an out-of-stater (or out-of-country-er), Klijn gives the Resort At Squaw Creek accolades for its high-end amenities. Plus, she says, "it's also cross country skier's dream."
Take A Tour Through The Austria & Germany Christmas Markets
If a visit to the European Christmas markets isn't already on your bucket list, Katy Rebrovich, senior leisure agent for CIRE, says they should be. "A true winter wonderland of snow, hot wine, spiced cider, and holiday card-worthy vistas, a visit to the Christmas markets scattered around Germany and Austria is a must for a winter getaway to remember," she describes. "Why not link up Vienna, Salzburg, and Munich for a longer stay visiting these historic and incredibly beautiful cities?"
She recommends staying at the posh Hotel Sacher in Vienna and shares a few must-do activities. "Get tickets to a musical performance in magical Vienna. Discover the Sound of Music in Salzburg. Venture outside of Munich to the Neuschwanstein Castle for an epic selfie to make all of your friends and family jealous. All the while, you can discover local artisans, unique foods and totally win at gift-giving this year!" She concludes that you can't leave without trying the famous Sacher Torte, a traditional chocolate cake with apricot preserves.
Spy The Northern Lights In The Finnish Lapland
For holiday enchantment both natural and mythical, Amy Hellman, a travel expert at Black Tomato, says a trip to the Finnish Lapland will get you into the spirit. "Straight out of a storybook, winter in Finnish Lapland is the ultimate way to embrace the charm and delight of the colder months," she says. "Immerse yourself in the winter weather, spending time with reindeer and huskies in the remote forests will ensure an enchanting getaway."
Also on the agenda? A visit to the Santa Claus Village in Rovaniemi, where you can feed real reindeer and enjoy a sleigh ride; a cruise on a snowmobile into the Finnish wilderness, where you'll find a spot to spy the Northern Lights; and a cozy spa day where you can soak in an outdoor jacuzzi and gaze upon the drifts of snow. Needless to say, this is one cold-weather vacation that will captivate kids and adults, alike.
Commune With Nature In Missoula, Montana
Jason Villacres, who specializes in leisure and corporate travel for CIRE, says that those with a love of the outdoors — no matter the temperature — can set their sights on Montana. He paints the picture: "Think vast wilderness, with the only thing taller than the pine trees [being] the mountains behind them. Open plains with crisp air and falling snowflakes, with tons of wildlife like American buffalo, bighorn sheep, white-tailed deer, coyotes, hawks, eagles … the list goes on."
While this is an unconventional winter holiday, the secret's almost out. "Montana has actually become a hot-spot for high-end vacations blended with a retreat into nature and the outdoors," Villacres says. "It almost feels like you've been transported into a National Geographic special." He suggests staying at the Resort at Paws Up, a glamping site that offers the best of both worlds: Hotel-like luxury without being too far removed from the great outdoors. "You're able to do a cattle drive through the snowy plains and end the day with a gourmet meal in front of your own fireplace," he says of the accommodation.
Celebrate The Season In London, England
"Nowhere in the world does the holiday season quite like London," says Rosie Simpson, Black Tomato's Head of Client Relations & Loyalty. "The energy of Christmas and the chilling cold weather create the perfect scenario for festive, idyllic winter activities. There is no shortage of ways to bask in the holiday spirit in England, from the classic Kew Gardens light show and Nutcracker performances to quaint wreath-making workshops and ginger cake galore."
She adds that other itinerary staples should include a visit to Winter Wonderland in Hyde Park, dinner in an igloo at the Coppa Club Tower Bridge, and a baking lesson at Bread Ahead, where you'll learn to make British holiday goodies. All in all, she promises, "a winter in London is truly magical."