Accent Walls Are Getting An Upgrade In 2019, Says Pinterest
Photographee.eu/Shutterstock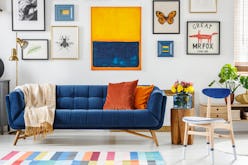 Accent walls may be all the rage right now but, come 2019, it won't just be about the paint. Splashing a single wall with a saturated color is still a popular choice, but now, nesters are getting creative with their accent wall ideas and making statements in other artful ways. For instance, you can opt for an eclectic gallery wall or add interest with vibrant wallpaper or three-dimensional art. Next year, it's clear that anything goes. Just ask Pinterest.
The popular platform recently unveiled some of the top trending home decor ideas based on popular searches, and there's literally an idea for every decor skill level and aesthetic. The trick here is to designate your boldest decor to one section of a room, adding a pop of personality without overwhelming the eyes. "Accent walls bring emphasis and depth to a room, and can even be a form expression," explains Cynthia Cornell, a True Value EasyCare Ultra Premium Paint color expert. "[They act] as a 'voice' for the whole room because your eye tends to go to an accent wall first."
To help you breathe some new life into your living space, ahead are seven of the year's most anticipated accent wall trends according to Pinterest, plus expert tips from interior designers who've tried them all. Whether it's playful geometric shapes, knit accents, or live art these ideas help you think outside the paint can.
Geometric Patterns
Geometry may have been boring in school, but when you add it to your space, the result is playful, sleek, and undeniably modern. According to Pinterest, searches for "geometric paint" were up 225 percent.
Martina Servos, founder of Lemon Grass Design, suggests using stencils, and points out that the shapes can add proportion and balance to a room. "I like geometrics because they allow you to playfully correct proportions," she says. "Say you are dealing with a bed that is not centered on a wall; [a geometric] design can correct that."
Nicole Farkas, interior designer at Embarc Studio, mentions that these kinds of accents are perfect for kids' rooms, too. "Stencils and decals are an easy way to make a big impact in spaces for littles," she says. (Note: Removable decals are perfect for those who are hesitant to commit.)
Knit Accents
It seems that knitting is everywhere, whether taken up as a stress-relieving hobby, worn as a fashion statement, or incorporated into home decor. "People are wrapping up their walls — and themselves— in fabric for a textured, artsy aesthetic," says Pinterest, who also reports that searches for "textile art" are up a whopping 1,718 percent.
Elizabeth Brown, CEO of Sotheby's Home, notes that this is a wonderful way to show off tactile art, whether you bought it or made it yourself. "It can feel like your back's against the wall when you're looking at a cold, blank space, but fear not," she says. "This is an opportunity to showcase your favorite pieces and infuse your personality into a room. From vintage fabrics to a modern woven piece, a tapestry can be the star of a room, adding texture and color to a space."
Shades Of Yellow
The thought of adding pops of yellow to a room may strike fear in the color-shy, but Pinterest calls the sunshine shade a must. "Bright yellow is never subtle but always fun," says Cornell, mentioning that the "accent" can even make a statement above eye-level. "A patterned ceiling in yellow brings the sun in every morning of the year," she says.
Farkas adds that the key to incorporating the hue into your home is all about balance. "Stick to golden yellow and add a variety of neutrals and textures to round out your palette," she advises. "Bring in metals (brass), wood flooring (walnut), and artwork (black and white prints) to make the space feel curated and let your accent color stand out."
Vertical Gardens
Turns out, "accent walls" aren't just for the inside of your home. Pinterest states that the old-school lattice-climbing greenery is getting upgraded to vertical gardening. "Vertical gardens are on the rise for people looking for some floor-to-ceiling green in their lives," the site reports. Not only are gardens growing up the sides of houses, they're adding natural ambiance to fences, patios, and pool areas, too.
Farkas gives her tip on guiding your garden where you want it to go. "Try using fishing wire to train ivy to climb your exterior wall and create an interesting pattern," she recommends. "Ivy will take the path of least resistance, so if you give it something to climb, it will climb."
What's more, people are taking their botanicals inside, and not just in pots. Whether you choose lush greenery spilling out of planters or petite succulents sprouting out of panels, nature can be displayed as living art in your home.
Tin Details
People are getting "tinspired," says Pinterest, by adding tin accent walls and backsplashes for a dose of vintage flair. Servos says you can change the entire look of a kitchen with this throwback trend. "I think it would be great as a quick update for an outdated kitchen, for instance," she says. "Before you renovate the whole kitchen, add some interest by painting cabinets and installing tin as backsplash. I believe this is a great DIY idea for people who like to decorate and are good at it." You can also add antique vibes to any room by using tin tiles (real or faux) as wall hangings.
Bold Wallpaper
Wallpaper is making a comeback, but its application is new and improved. Instead of overwhelming an entire room, vibrant patterns are being placed on accent walls — and Pinterest declares, the bolder, the better. Servos says she's used an oversized leaf motif to decorate a veranda, with a "fabulous" result; and Farkas, a fan of "animal prints or patterns found in nature," says they add "subtle visual texture" to a room.
The key to moderation, she says, has to do with the size of the space. "Scale is important," she points out. "Use a bright or intense pattern in a powder room or formal space and keep your main living spaces less busy." She shares that for one client, her design team blew up a photo to cover an entire wall. And to easily display a stunning wallpaper print, one of her favorite tricks is to frame a few sections and avoid the adhesive hassle.
Feature Fireplaces
Whether indoors or outdoors, fireplaces create warm ambiance. With the search "contemporary fireplaces" up 763 percent, Pinterest states, "the more modern and sleek, the better." While fireplaces are a statement piece all on their own, consider making the wall in which they're built your designated "accent wall." In order to enhance the romantic feature, Farkas suggests installing hardwood planks on the breast of the chimney in a chevron pattern, then painting it with a monochromatic neutral from top to bottom. For the finishing touches, "layer your favorite vintage mirror or piece of artwork to create a one-of-a-kind focal point in your space," she says.