Target Has Everything You Need To Host The Perfect Holiday Dinner Party
Target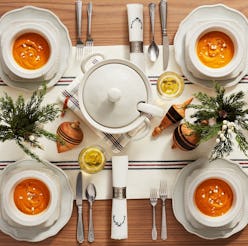 Let's be real: Fall is in full swing, and with Thanksgiving only mere weeks away, it won't be long before all of the seasonal festivities begin to roll in, including holiday parties. If you happen to be hosting one of your own and are in need of some new holiday dinner party essentials, no worries — Target has you covered.
When it comes to hosting a holiday fête, there are plenty of things to consider besides turning on the holiday playlist and transforming your home into a winter wonderland. As the hostess, you're in charge of just about everything, which can make the celebratory evening verge on the side of stressful. So, you'll want to make sure you have exactly what you need for a night of entertaining your friends and family.
From a new set of plates and serving trays to holiday décor, Target has everything you could need to host a standout party. The best part: You don't have to spend a fortune to make it seem like you did, as all of these ring in under $30. Take this Rectangle Marbled Serving Tray from Threshold, for example. Not only is the design of this $25 tray timeless, but the marbled texture makes it look so much more expensive than it really is.
Whether you're hosting an intimate dinner party or ringing in the New Year with a larger get together, there are always some key staples to have for your event. Set the table with a fresh set of plates to accompany this versatile $20 Threshold Square Porcelain Divided Serving Platter to hold simple crackers and delicious hors d'oeuvres your guests will have throughout the evening. Not to mention a sleek Thirstystone Slate Cheese Board, which costs $5 — this one requires no reasoning; your guests will thank you later.
In the chance that you're looking to add to your essentials with some new additions, this Hearth & Hand with Magnolia Stoneware Scalloped Cakestand can be used to hold a variety of treats, whether it's more small bites or dessert for the evening, and it only costs $15. In terms of beverages, a decanter and stainless steel beverage tub will be the perfect addition to any bar cart.
Of course, not all the entertaining essentials are food-related; how you create an atmosphere of holiday cheer also depends on the décor (and the attendees, of course!). It wouldn't be a holiday party without a set of Christmas lights, and these Philips 90ct Christmas LED Dewdrop Lights will create a mood that feels as magical and romantic as a quiet night of winter snowfall. Let these dainty lights glow alongside ambient candles to turn your home into another world.
No matter where you are on the entertaining spectrum, from first-time hostess to longtime veteran, these party essentials will be sure to take a bit of the stress away from the planning process. Keep scrolling to see 15 of the best under-$30 essentials from Target that'll elevate your party to a whole new level.