5 Beauty Brands Like Lush That Are As Instagrammable As They Are Ethical
Bathing Culture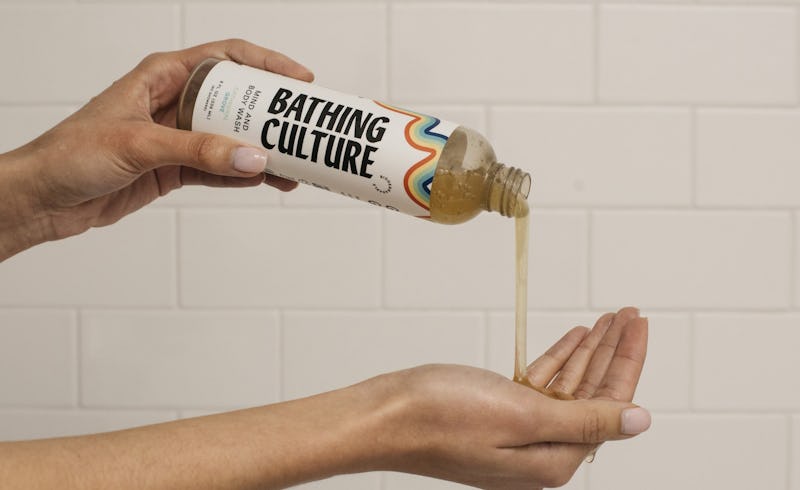 It isn't a question anymore. Everyone, whether they've been keeping up with the latest buzzy beauty products or not, knows about the brand Lush. The UK-based cosmetics company went from stateside cult secret to Instagram legend to shopping mall staple in a matter of years, skyrocketing to fame with every candy-colored bath bomb photographed. And while the brand will undoubtedly always have a bath bomb-shaped place in fans' hearts — and a spot in their beauty arsenals — you may be on the hunt for the latest and greatest beauty brands like Lush.
Naturally, this is a bit more complicated than just finding a new brand with colorful bubble baths. Lush is radically transparent with its ethics, offering products that are cruelty free, handmade, recyclable — and the list goes on and on. And while the conversation around clean beauty products has moved into the spotlight since Lush's debut on the scene, what constitutes a mascara or shower gel as "clean", "ethical", and "sustainable" is still difficult to define.
So, really, it comes down to what you're looking for. But to make things a little bit easier, below are five beauty brands like Lush that are transparent with their ethics and will still look amazing on your bathroom shelf. (Because, as Lush proved long ago, it's good to be both.)
What It Is: Do you often wander into Lush just to smell its products? You'll love the body and skincare brand Farmacy, then. The beauty brand focuses on yummy key ingredients (like moisturizing honey or vitamin-rich cherries) with fragrances that are just as delicious.
Notably: Sources from organic farms in New York, Pennsylvania, and Brazil. Offers sustainably sourced and recyclable packaging. Cruelty free, and made without phthalates, mineral oil, and parabens. (Read more about Famarcy's packaging and products here.)
Where To Find: FarmacyBeauty.com, Sephora, & Urban Outfitters
What It Is: Similar to how Lush's iconic bath bombs revolutionized bathing years ago — opening up the door for the modern "bathfluencer" — Nécessaire's minimalist products feel like a breath of subtly eucalyptus-scented fresh air.
Notably: Products made without phthalates, parabens, sulfates, and silicones. Sustainable paper packaging. (Read more about Nécessaire's ingredients and practices here.)
Where To Find: Necessaire.com, Barneys New York, & goop
What It Is: Tune into Smith & Cult if your collection is stocked with Lush's versatile makeup. The beauty brand offers a similar aesthetic — playfully dark and rule breaking — while also featuring multi-use products, like its new Locked & Lit Lip Balm.
Notably: Cruelty free, and made without parabens and phthalates. (Read more about Smith & Cult's products here.)
Where To Find: SmithAndCult.com, Ulta, & Dermstore
What It Is: Give Reverie's clean haircare products a whirl if you've already shopped your way through Lush's supply. The brand focuses on good-for-your-hair ingredients that genuinely treat your tresses right from the inside out.
Notably: All products are cruelty free and vegan, and made without sulfates, silicones, and more. Uses ingredients from sustainable, organic, or Fair Trade sources. (Read more about Reverie's sustainability and ingredients here.)
Where To Find: GMReverie.com & Sephora
5. Bathing Culture
What It Is: Last but not least, add the bathtub-centric brand Bathing Culture to your list. The eco-friendly brand is making a splash on social media thanks to its bright, retro packaging and concentrated Mind and Body Wash.
Notably: Features sustainably grown, biodegradable formulas made without sulfates, parabens, and single-use plastics. (Read more about Bathing Culture's position as an "activist company" here.)
Where To Find: bathingculture.com, goop, & CAP Beauty