The One Thing You Need To Take Your Evening Bath-Time Routine To The Next Level
Moonergy / Instagram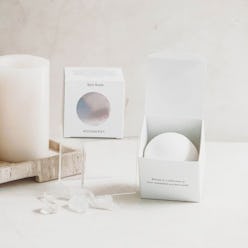 With 2020 already shaping up to be a whirlwind year, it's more important than ever to maintain a healthy self-care routine. It could be as simple as drinking water, detoxing from social media, or making sure you're getting enough veggies despite being too exhausted to cook most days. To some, it looks more like popping a luxe bath bomb into the tub and sinking in with a glass of red and an escapist novel.
Bubble baths serve all kinds of purposes: aromatherapy, hygiene, a temporary reprieve from the stresses of daily life. The simple act of soaking in hot water itself has been proven to relieve muscle tension, and when you add essential oils into the mix, you might as well be getting an all-out spa treatment in the comfort of your own home.
There has never been a more compatible combination than a bottle of pinot, a Diptyque candle, and a bath bomb. While you can snag one of these spherical mixtures of goodness from the nearest box store, some days require something beyond what Target can provide.
Tuck these luxe bath bombs away for high-anxiety days like you would lock up your best bottle of bubbly for a special occasion.
We only include products that have been independently selected by The Zoe Report's editorial team. However, we may receive a portion of sales if you purchase a product through a link in this article.