These Are The Next It Bags According To 4 Cool Designers
Instagram/ By Far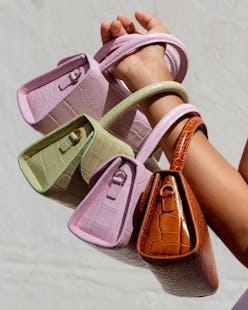 Each season, designers churn out a slew of stylish handbags that are billed as the only ones you'll ever need. Yet every so often, through the onslaught of totes and a bevy of bucket bags, a company is able to break through the noise and produce a carryall so special, so coveted and seemingly so ubiquitous, that it surpasses the timeliness of trends and reaches the rarefied air that is it-bag status. But it's what comes after Instagram success for these cool new handbag brands that really defines how they transition from one hit wonder to a household name.
The idea of an it bag isn't exactly new. The iconic Chanel 2.55 and the Hermès Kelly were both created in the early '50s yet still remain relevant. Late 20th century styles like the Fendi Baguette and the Christian Dior Lady Bag are also considered iconic. But recently, more established luxury labels have had to make room on the selling floor for new brands that are using the reach of social media, strategic influencer placement, and old-fashioned good design to make trendy, luxe handbags more accessible.
Below the founders and designers from four newly minted cult-classic handbag labels break down how they reached it bag territory and how it has propelled their brands forward since.
By Far
Founders Valentina Bezuhanova, Sabina Gyosheva, and Denitsa Bumbarova started accessory label by Far in 2016 and became an instant fashion crowd favorite thanks in large part to their small shoulder bag, The Rachel ($365), named for Rachel Green of Friends after the group binge-watched several seasons. Their popular mini bags, boots, and square-toed shoes play off of early aughts design codes and '90s-era coolness.
"Bella Hadid started wearing the bag almost every day before we had the chance to launch it, so it was success since the beginning," says Bumbarova. There was something both familiar and fresh about the Rachel that caught the imagination of stylists and shoppers alike. "Once you put it on, you immediately feel sexy. It's very unusual, but it's so true," Gyosheva offers. "At the same time it's surprisingly spacious, you can literally fit anything you need."
Adding bags to their range of shoes (the brand is also known for bringing back '90s-style square toes in colorful strappy sandals, wedges, and highly in demand boots) was a risky move that paid off in more ways than one. "Fortunately, it was a huge success, so the lesson learned was to just trust your gut and push for what you feel passionate about as a designer," Bezuhanova adds.
As the brand has grown, it's had to learn how to deal with others copying their iconic designs. "We find them very amusing, as they never come even close to the original," explains Bumbarova. "We even have a group chat with the whole team where we share our finds of knockoffs."
But the Rachel isn't the only mega-money-making bag in their roster. After Beyoncé rocked by Far's sage green croco Ball Bag ($625) court-side, they haven't been able to keep it in stock.
Susan Alexandra
Midwest-born designer Susan Korn, who most know through her eponymous bag brand Susan Alexandra, crafted The Merry Bag ($360) as an homage to her mother's effervescent spirit — and to look like a deconstructed rainbow. So unsurprisingly, the New York-based designer's namesake line is all meant to unlock your inner child using whimsical motifs, playful colors, and, naturally, sparkles!
"Alyssa Coscarelli was one of my first supporters and lucky for me, still is today. Her boost set the ball rolling," explains Korn. "I think the power of the bags was really spread by people around the world 'gramming. It was those girls first, and then the celebs followed. Gigi Hadid posted pictures of herself with her Merry bag last summer and that definitely created a HUGE spike in sales."
Though Korn cites many disparate influences for her aesthetic — everything from heartbreak to bodega signs — her real inspiration came from what she saw as a gap in the market. "I was always seeking my ideal bag and I couldn't find it. I didn't have a specific vision in mind, I just wanted something intrinsically me. When I made the first bag, the Watermelon, I posted it. The response surpassed anything that I had ever posted before and it led me to think ... hey, maybe I've got something here," she notes. "I made it for myself and soon people were asking where they could get their own. And from there, the bag collection was born."
Her love of sparkle and rich, vibrant colors has become a cornerstone of the company's branding, but Alexandra finds motivation beyond her own design aesthetic. "The bags I produce are handmade by women here in NYC. These women were overlooked for most jobs because they don't speak English. Many of them have small children and are unable to take a job and raise a family," she explains. "These bags, beyond being fun and sparkly give jobs and stability to so many people."
Cult Gaia
The Cult Gaia Ark Bag ($128) garners all the attention thanks to its unmistakable shape that mimics an abstract version of Noah's ark, serving as both summer carry-all and decor ever since founder Jasmin Larian debuted it in 2016.
"The cornerstone of Cult Gaia has always been about making things that are conversation starters, that are as much objet d'art as they are accessory," explains Larian. "My approach to making things is that if it can't live alone like art in a gallery or museum, then what is the point of making it?" Larian notes that it took the public time to buy into her abstract designs. "When I introduced it in 2016, it didn't take off. I think people didn't believe that they could pull it off."
But once shoppers spotted the geometric bamboo case on the arms of mega-influencers like Aimee Song and Emily Ratajkowski, a hit was born. For Larian, the success of the Ark shaped her entire approach to design. "I learned that every item needs to have an iconic element to it, be exceptionally unique, and instantly recognizable," she says. "With our coveted Ark bag, we have introduced it in new colorways and materials. Since then, we have evolved into a full lifestyle brand of clothing, bags, accessories, and shoes but the brand DNA is still the same."
Larian now has her sights set on two goals: Scoring Naomi Campbell as a customer and the steady rise of their newest must-have Astraea bag ($398). "We just introduced it in mini size in different colorways, bluebell, bubblegum, and sand. Very fun and can be worn day and night inspired by the sun."
Senreve
Senreve's Maestra bag ($895) was developed to fill a gap in the luxury space where form can meet function for working women who value great design. According to CEO and co-founder Coral Chung, each item in their line of handcrafted carry-alls offers much-needed versatility and it was this detail that led to early wins.
In the beginning, Senreve relied heavily on numbers rather than just aesthetics to differentiate their line. "We've always had an art meets science approach," explains Chung. "We infuse design, art, and traditional luxury elements with data-driven research. I remember distinctly the first time we showed our Maestra and Doctor bags to a group of women in a private focus group. They immediately and instinctively responded with excitement. We knew that we had nailed it!"
Their selection of practical but distinctly elevated bags sold out almost immediately upon launch. "For me, I knew we had an it bag when a friend texted me excitedly that he just saw not one but three Senreve bags on his flight from SFO to São Paulo," she says.
Senreve looks to iconic women of style for inspiration, citing women like Audrey Hepburn, Elizabeth Taylor, or Jacqueline Kennedy as ideal brand ambassadors. "There's a timeless quality to our bags, and we have a saying 'don't be a rockstar, be a legend,'" says Chung.
Chung predicts that the next wave of styles destined to draw a wait list will be Senreve's belt bags. "The Aria Belt Bag ($395) — named after Chung's daughter— and Coda Belt Bag ($395), though just released less than a year ago, have been so well received. I think they will only become more popular as we enter high summer!"