Carrie Bradshaw's Go-To Handbag Is Back, & You'll Be Obsessed All Over Again
@stephaniebroek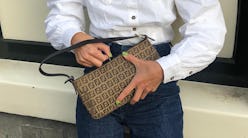 Before the Olsen twins ushered in an era of slouchy, oversized bags, the early 2000s and late 1990s were all about the little shoulder bag. You know the one: small silhouette, short strap, usually a zip or flap closure. The correct way to carry it — as demonstrated by such trendsetters of the time as Sarah Jessica Parker, Mischa Barton, and Paris Hilton — was close to the body, nestled into the curve of your armpit. An outfit fixture of many an adolescence, the baguette bag trend was the only accessory craze worth caring about.
Prada's black nylon shoulder bag, for example, was the must-have accessory for every teen in the early aughts. Up there too were the Takashi Murakami editions of Louis Vuitton's monogram Pochette: the white one with rainbow LVs, the pale pink bag with the blossoms, the classic brown with the red smiley-face cherries. Coach's signature jacquard bag was another wish list topper. And of course, there was Fendi's iconic Baguette. Who could forget the Sex and the City episode where Carrie Bradshaw pointedly corrected her mugger after he demanded she hand over her "bag." Ahem, it's a baguette.
Like most trends from the 1990s and 2000s, the baguette is making a comeback. Cult-favorite Bulgarian brand By Far caught the wave early on with its Rachel bag (named for Rachel Green of Friends), released last year. The Rachel was an instant hit, snapped up by influencers, editors, and celebs such as Kendall Jenner and Bella Hadid. Other brands like Little Liffner and The Row have put out similar such renditions, too. But new options notwithstanding, this kind of nostalgic fashion moment can be the perfect opportunity to go vintage.
Enter: Treasures of NYC, the popular Instagram account where you can shop vintage designer pieces straight from the feed. The Insta-shop is regularly updated with new items from its seemingly bottomless stash of lust-worthy vintage luxury. The feed often features unique, special pieces you wouldn't expect to find just anywhere, like Chanel rollerblades, a Dior swimsuit, or Louis Vuitton lucite hair baubles, but it's the absolute holy grail when it comes to designer purses from the '90s/'00s — and baguettes in particular. You can expect to find options from Prada, Fendi, Dior, Louis Vuitton, and more, and prices are really reasonable (most clock in under $400). "The '90s are having a major moment, so we are really having fun running with that whole vibe," says TNYC co-founder Robert Bird, "and part of that vibe happened to be these short-strap shoulder bags in fun patterns, crazy colors, etcetera."
TNYC co-founder and creative director Brittany Blanco names Prada, Fendi, and Louis Vuitton at the top of her list for baguettes. "Fendi and Louis Vuitton have a great variety of detailed styles," she says. "Fendi has amazing vintage beaded, animal print, and canvas styles from past collections." Blanco also shares my fondness for Louis Vuittons's whimsical-print options and Prada's nylon range. "With LV you have the multi-color monogram and cherry print (a personal fave), and then any of its collab collections had such unique patterns," she continues. "Prada is really all about the nylon pieces. Such fun colors and such a have to collect them all feeling. We are huge fans of any brand that really has fun with their collections. They're the best vintage finds since it is so easy to identify which year that collection was born."
Watching how trends and styles evolve is something Bird finds particularly interesting, especially in the vintage realm. "When we started TNYC full time a few years ago, it was all about the cross-body and shoulder straps," Bird notes. "People wouldn't purchase bags unless they came with a shoulder strap. Now, it's all about the micro bags and shoulder bags. The most common question we get is "will this hold my iPhone X Max?"
The baguette sits in the sweet spot where practical and aesthetically pleasing collide. Like a crossbody or belt bag, it has the convenience of being hands-free. The size is just right — not so big that it becomes a black hole and swallows up all your stuff, but not so diminutive that it can't fit your phone or other essentials. Also, it's just really cool.
"I think that the primary intention of bags has shifted in the past couple years," Blanco suggests. "We can all remember that time where we just wanted the bag that could hold EVERYTHING. Recently, even the most impractical-seeming bags are getting the most love. Who cares if you can even fit anything in there?! They are fun and a statement piece."
If you're looking to invest in your first designer baguette, Bird recommends Prada as a can't-miss starter pick. "The colorful Prada nylon shoulder bag is one of those classics that is still so relevant even as trends shift," he explains. "Even if you aren't fully sold on the shoulder bag trend, this is a great starting point. There are just so many color variations that they're a great staple."
Continue on to shop some of the hottest vintage shoulder bags, plus a few worthy options from current collections in case your vintage pick sells out before you can snag it.