Hermès Is Launching Skincare And Cosmetics — Here's When You'll Be Able To Shop It
Pixelformula/SIPA/Shutterstock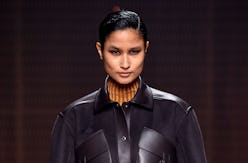 Been feeling like your vanity could use an extra dose of luxury lately? Well you may want to sit down for this next bit of news, because your beauty shelf is about to get a major update courtesy of one of fashion's most iconic houses. Hermès is launching skincare and cosmetics in 2020, so go ahead and start clearing a spot on your counter for the soon-to-be coveted luxe beauty collection.
On March 21, Business of Fashion published a report confirming that much-adored French fashion house Hermès will officially be expanding into the skincare and cosmetics space next year. The brand has released information stating that the new beauty collections are being developed in-house but manufactured by third-party partners, in France and Italy for the most part.
"The launch of Beauty, a new Hermès Métier, will be introduced in Spring, 2020. We have no further announcements to make at this time." Peter Malachi, SVP Communications, tells The Zoe Report via email.
This is, of course, not Hermès very first foray into beauty, as the brand already boasts a large collection of fragrances for women and men, including its latest (and already very popular) Un Jardin Sur La Lagune Eau de Toilette which is the sixth scent in the brand's Jardin collection. Other than that, Hermès also currently carries a handful of perfume-scented soaps and aromatic moisturizing face and body balms — but soon, the brand's offerings will see an expansion.
The same Business of Fashion report listed Hermés 2018 sales topping out at nearly six billion Euros in 2018 — of which 5 percent was fragrance sales — bringing the company to a 10.4 percent growth over the previous year. With this upward momentum in mind, the brand says it feels confident, though cautious, entering into the beauty space in a much bigger way. "Obviously, we hope to have the biggest scope possible. We are trying to do it humbly and cautiously, because it's a big market that's already full of strong players, and therefore we have to find our place in it," Hermès chief executive Axel Dumas said.
The brand will be following in the footsteps of other famed fashion maisons, like Chanel, Dior, Givenchy, and more which have included luxe, high-end skincare and cosmetics within their offerings over the years. And while all of those ranges have included everything from rich anti-aging moisturizing creams to bold, beautiful color cosmetics, there's no telling at this point exactly what Hermès' own line is set to include.
What is known, is that Hermès plans to use plastic-free packaging for its forthcoming skincare and cosmetic products, and the brand hopes this new range will open up an additional (lower-priced) venue of introduction for new shoppers.
Stay tuned for more on the French fashion house's newest venture, and until then prepare a front-and-center spot on your beauty shelf.