This $10 IKEA Shower Curtain Will Totally Transform Your Bathroom
Hayneedle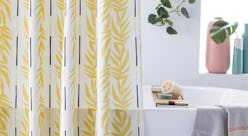 According to design professionals, your shower curtain has a lot more impact than you might think in terms of decor. Because it can take up a decent amount of surface area (especially in a room that's typically on the smaller side), this one item can pack a pretty big punch. That said, choosing the right one shouldn't be a task taken lightly — or purely based on functionality. And thankfully, finding more luxe, detailed, or dynamic textiles for your bathroom doesn't have to mean spending a lot. In fact, with so many stylish shower curtains under $40, it's also one of the most affordable ways to majorly change the mood in your space.
There are a handful of budget-friendly ways to give your bathroom an instant upgrade — including a chic new bathroom curtain. Top interior designers recommend swapping in a fresh towel set, utilizing shelving as a way to display product and artsy accessories, playing with paint colors (perhaps an accent wall?), and adding in a plant or two to truly transform the place from a functional zone to a full-on sanctuary. And if you do have some more to spend, you can save the majority of your cash for one of the biggest decor trends of late, a feature wall with stunning tile for your shower area, vanity, or backsplash.
That said, your shower curtain is a great place to start, and it won't cost you an arm and a leg. In fact, if you're looking for a jumping off point, a good shower curtain can even help set the tone for your space and give you the inspiration you need to shop for the rest of your furniture or accessories. For example, if you fall for a beautiful floral design, pull out a few colors from the motif and use them to harmonize the room whether they become your new wall color or simply the shade of a couple decorative odds and ends.
And just because your shower curtain can be a great source of inspiration doesn't mean you have to be totally literal about it. Say you find a classic, nautical striped style. That doesn't mean you have to go overboard (pun intended) with a boat theme. Likewise, a leopard print can be the star of the space without you having to transform your bathroom into an animal kingdom.
If your design plans are based around a budget, a good place to start is searching specifically by price point — and lucky there are a ton of options out there that are the same price as a single spin class. You just have to know where to look. For example, IKEA and Target are always reliable sources for affordable bathroom decor, and you can even score some stunning options from Urban Outfitters and West Elm that won't break the bank. To get you started, ahead you'll find 10 shower curtains for $40 or less that suit a range of decor — from minimalist to maximalist.