Target Made Bedsheets That'll Make You Want To Stay In Bed All Season
Alena Ozerova/Shutterstock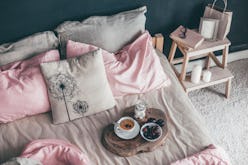 Now that you've got your spring cleaning out of the way, it's time to reevaluate a few more details in your home in preparation for the season to come. It won't be long before things start heating up — literally — and that might necessitate a couple swaps to make your place feel a little lighter. First and foremost? Your bedding. And while finding textiles that look as good as they feel on a tight budget can sometimes feel impossible, you might be surprised at the options for linen and cotton sheet sets under $100.
Just like you might switch to materials like wool and flannel in the colder, winter months, spring and summer beg for a bed makeover as well. Experts agree that your sheets make a difference when it comes to getting a better night's sleep — not just because nicer fabrics are soothing on the skin (although let that be reason enough to prioritize a luxury bedding purchase), but because they affect your body's temperature. During warmer weather seasons, breathable fabrics will keep you from getting overheated at night, which can totally interrupt your sleep.
This might explain why, even if you've tried all the other recommended essentials for better sleep (ie: essential oil diffuser, plants that improve the air quality, and warm, ambient lighting to name just a few), you may not have found success. If you've been waking up in a sweat, despite the fact that you don't have a ton of heavy blankets on your bed, your sheets could be to blame. Polyester blends aren't as breathable and — as previously mentioned — heavier fabrics are bound to make you warmer. Instead opt for linen, cotton, or a blend of the two. They allow for more air flow and therefore keep you feeling cooler.
You may have noticed that poly blends always seem to be the most affordable when it comes to shopping sheet sets. So if you've put yourself on a strict budget, you probably thought of linen and cotton as beyond your means. Luckily that doesn't have to be the case. Some of your favorite major home retailers offer stylish options that will be friendly on your wallet and give your bed the refresh it needs to prepare for summer. For example, Target regularly stocks a wide array of these fabrics, and West Elm's sales put even their most luxurious organic cotton sets at a more accessible price point (just keep an eye out for them).
Beyond those reliable sources, don't forget to check sites like Wayfair and Overstock, which never fair to offer great deals on pretty much anything you need in your home. But if you aren't in the mood to do some digging, just check out the list ahead to find 10 options of sheet sets that will have your bed feeling summer ready in a flash. And the best part? They're all under $100, so you won't break the bank in the process.