This $27 Bedding Set From Target Is Exactly What Your Bedroom Needs For Fall
Parachute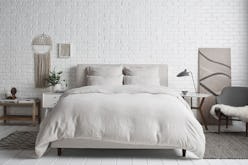 With the temperatures starting to drop, it's normal to feel the need to nest. And part of creating a home that's a respite for the chilly days ahead is making sure your bedroom is a worthy sleep sanctuary. Investing in your bed is always a good idea, but now that we're shifting into fall, there are a few simple swaps that can transform it into a haven for rest and relaxation — namely, snagging some ultra cozy bedding sets that will make you practically never want to get out from under your covers.
But what exactly should you be looking for when it comes to soft and snuggly bedding? According to luxury linen brand Parachute's founder and CEO Ariel Kaye, fabric and color is key. "To transition my bed between seasons, I add layers that bring in textual interest and warmth," she explains. "I also look to change my bedding set to a darker, richer color. It creates a cozy vibe as the temperature starts to turn."
Some warmer fabrics to watch for are soft flannel, cotton twill, or linen, the latter being Kaye's personal favorite for the season. "While each of our fabrics is designed for year-round use, I gravitate to our linen bedding and its soft, lived-in feel," she says. "Linen's hollow fibers give it a natural ability to absorb moisture from the air and release it again as humidity levels shift. This is how the fabric keeps you cool in summer and warm in winter. Strong and durable, yet simple and luxurious, I can't wait to cuddle up in my linen sheets."
Following Kaye's advice, find five suggestions for seasonal, cozy bedding sets that might just make you want to hibernate — including a few options for anyone shopping on a budget.
For a thorough overhaul, Parachute's Venice set is an ideal choice, offering the combo of a linen duvet cover, fitted sheet, and two pillowcases (throwing on one of their quilts isn't a bad idea, either). And if you typically favor white sheets, try a subtle shift to something deeper and warmer, but still neutral, like this Toast shade.
This quilt set by UGG offers a buttery soft suede-like feel and the rich charcoal color sets an autumnal tone without being too obvious (save the pumpkin spice shades for seasonal decor elsewhere in the home).
For a truly toasty slumber, flannel is a great choice. Target's super-soft sheet set — which includes a flat and fitted sheet and two pillowcases for twin, full, queen, and king sizes — is made of 100% cotton, so while it's keeping you warm and cozy, you won't overheat.
For a feel that's like putting on your favorite worn-in T-shirt, opt for a cotton jersey, like this set from Urban Outfitters. Complete with a comforter, pillowcases, a fitted sheet, and a tote you can toss it all into when needed — this bedding is superb for weekend lounging. Just add a steaming mug of tea and a good book.
Makeover your bed completely with this cotton twill set from PB Teen (pro tip: You don't need to be a teen to shop here, and you'll save a few bucks) that includes a duvet cover, shams, and a contrasting sheet set. This army green color also feels perfect for fall.