This Bedding Set From H&M Will Make You Wanna Stay In Bed All Winter
@hmhome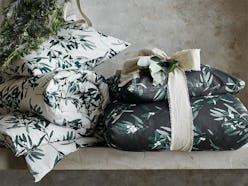 If you've reached adulthood, have a demanding schedule and responsibilities, and would prefer to be pleasant and healthy more days than not — you've probably already come to understand the value in getting a good night's sleep. These days, there are a number of things you can do to be sure you're getting quality time under the sheets — from meditation apps to CBD products — but one thing not to be overlooked is your bedding situation. And while it can seem like a financially daunting undertaking, there are actually plenty of affordable bedding options on the market, including some pretty luxurious ones.
Sleep experts admit that investing in good quality (and yes, often pricier) brands can help you rest more comfortably and deeply due to less skin irritants and potentially toxic materials, but finding sheets, comforters, throws, shams, and other bed dressings that feel and look good doesn't always mean having to break the bank. In fact, if you've got less than $100 to spend on sprucing up your bed, there are pieces to be found even from retailers you might think are out of your price range.
If you're looking for a minimal upgrade, focus your budget on smaller pieces in luxurious and sumptuous fabrics, like linen, faux fur, organic cotton, or brushed cotton flannel — even if it's just a set of shams or one super-cozy throw blanket, you'll feel a big difference when you tuck in for the night. If it's a total overhaul you're seeking (new year, new bed?) there are plenty of affordable retailers like Target, Zara, and H&M Home that offer sheet and duvet sets at an impressive price point, plus you'll find them in a range of playful and chic patterns and colors — which is ideal if you tend to change up your bedding more frequently.
And if you've already created the bed of your dreams in your own home and have no interest in changing things up anytime soon, consider paying it forward. The gift of brand new bedding is always a thoughtful one. From a stylish weighted blanket that will lull them to sleep to a fluffy fleece throw, giving your loved one something to make their bed extra cozy this winter will be much appreciated, and often it can be something we don't always think of buying for ourselves. Heck, even a pair of pillow shams or a nice sheet set could make someone's day!
Regardless of whether you're browsing new bedding for yourself or someone on your holiday gifting list, there's no reason to go over budget to find something you love. From the most luxurious brands to the wallet-friendly mainstays, you can pick up accent pieces or the whole kit-and-caboodle for less than $100 bucks. Ahead find a few options to pick up in time for the holidays — or to use as inspiration for picking out your own brand new sheets, duvets, pillow cases, and more.