The Unexpected Decor Piece That Will Help You Sleep Better
Photographee.eu/Shutterstock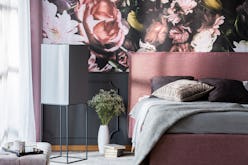 When it comes to your bedroom, the items many people shop for fall into one of two categories: things that make your space more beautiful and things that make it more functional (specifically more conducive to sleep). But have you considered the fact that there may be some that can pull double duty? According to sleep experts, there are a few bedroom essentials that will not only give you positive aesthetic response, but will also help you get the much-needed quality sleep you've been struggling to attain.
Sleep expert and author Christine Hanson frequently coaches her clients through selecting certain decor pieces that are both beautiful and beneficial. And her overall advice on the subject is actually pretty simple: Buy the things you love to create a space you'll look forward to spending time in. For example, with decorative accessories like throw pillows and blankets, choosing fabrics that feel good and colors and patterns that bring you joy aren't just superficial endeavors. "I find the more pillows and beautiful covers you have the more fun it is to make your bed in the morning, because it's pretty but also helping you to get organized and start your day structured," she says. "It's something to look forward to when you come back in the evening so you're really going into your bedroom with a positive frame of mind."
That said, if you've got plans to spruce up your bedroom or you've been seeking better sleep, Hanson has a few suggestions for essentials that might just do both, from what to put on your wall to which home fragrance product will keep you rested and rejuvenated. See the seven she's highlighting ahead.
Wallpaper and Color
"Your bedroom should be a place that you really like," she explains. "So a lovely — maybe even more expensive — wallpaper can go a long way if you are happy each time you go in there." The same goes for your wall color.
Eco-Friendly Mattresses
While Hanson admits that everyone's mattress needs will be specific and different on a case-by-case basis, there's one factor she suggests considering when you shop for one. "Look to see if they are eco-certified so they don't have any toxic fumes and try to go with those labels as much as you can," she says. For example, the brand Avocado utilizes natural latex rubber and natural wool (or vegan options) in their green mattresses.
And while you're on the hunt, Hanson also recommends looking for retailers that offer a trial period. "Mattresses are super individual, so I really recommend that you try them out and often you're able to try them for 30 days," she adds.
Memory Foam Pillows
A good pillow is one that both offers support and ventilation. Between synthetic down and memory foam options, Hanson and her clients prefer the latter. "I personally really like memory foam," she says. "They seem a little hard at first but, for neck [support], they are the ones my clients prefer the most." Leesa's best-selling version will keep your head cool and comfortably in place.
Organic Bedding
Hanson, who swears by good quality linen and cotton satin, believes organic, non-toxic bedding can help you get the best sleep possible. "Again, see if they are eco-certified or even GOTS, which means that they are organically produced," she suggests.
Plants
Having at least one plant in your bedroom is another essential, according to Hanson. Certain plants are known to improve the air quality in your home, which is why they're especially great for anyone who struggles with sleeping. And if you're not a natural green thumb, there are plenty of easy-to-care-for options to consider.
Essential Oil Diffusers
You probably already know how powerful a sense smell can be, so why not use it to your advantage in the bedroom? With an oil diffuser, you can utilize certain essential oils to help you feel calm and ready for sleep. "Use scents like lavender or something that's more woodsy and grounding," Hanson recommends. "You can also use vetiver to promote sleep and have a great bedroom environment."
Lighting
"Lighting is also super important. Make sure you have some nice ambient light in the evening — nothing too harsh. Something warm, instead of a blue LED.