This $30 Outdoor Lamp From Anthropologie Will Be A Game-Changer For Your Patio
Anthropologie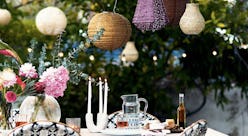 It's all about the ambience when you're trying to create a dreamy outdoor space where you can throw a fabulous al fresco dinner, sip cocktails on a date night at home, or just have an inspiring place to relax solo. And when it comes to setting a mood, light can play a major role — whether you want a vibe that's warm and cozy, or one that's colorful and festive (or anywhere in between). Thankfully, if you are in the market to spruce up your own area this time of year, there are plenty of affordable outdoor lighting ideas that won't break the bank. In fact, you can even find some seriously statement-making ones for $50 or less.
Maybe you're looking to transform your backyard into a total retreat, or perhaps it's that you're creating the ultimate patio for summer soirees — you know, the kind where seasonal cocktails are flowing and grilled bites just seem to taste better. No matter the atmosphere you're trying to achieve with out outdoor space, lighting can make all the difference in the world. And when it comes to outdoor lighting specifically, your best bets fall into five categories: lanterns, pendant lamps, string lights, scones, and tea light holders.
Depending the size of your space and specific functional needs, one or more of these could be just the thing to take it from basic to downright magical — and you can find a ton budget-friendly options for all five types. To prove the point, find 10 outdoor lighting ideas ahead that will suit a wide range of decor styles, all for under $50.
Lanterns
Lanterns are a super versatile lighting option, since they're portable and won't require any special wiring on your end. Use one to dress up a side table or dining table and pop in a candle or an LED light for a romantic, soft glow.
Pendant Lamps
With a little extra handiwork, you can easily install a hanging pendant lamp that can act as your central lighting — which is perfect for when you're hosting parties. Of course you can always fake it with the help of a battery-operated version to make things super simple.
String Lights
As you already know by now, string lights aren't just great for holidays and dorm rooms. Rather, they always offer a festive flicker no matter the space or the season.
Sconces/Wall Lights
Wall-mounted lights are a great out-of-the-way option for those who are a bit short on space, or simply want to add in some extra lighting without taking up any more room. For those who are into the rustic look, a barn light over the door is a perfect choice.
Tea Lights
Even if you're working with a teeny-tiny space, you can always liven things up and add a little extra light with some tea lights in beautiful holders. Add in a pop of color with painted ceramic ones or a sophisticated sparkle with mercury glass.