This Healthy Twist On A Mojito Will Be Your Go-To Summer Drink
Anna_Pustynnikova/Shutterstock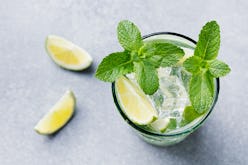 So you've resolved to live a healthier lifestyle. While that may mean tweaking some things in your life — like incorporating more and different types of exercise or revamping your diet to include more nutrient-rich foods — it doesn't mean totally denying yourself some of your favorite things. And if one of those things is having an occasional adult beverage, you're in luck. There are plenty of options for healthy summer cocktails that will help you stick to your goals — without feeling like you're missing a thing.
By now you've certainly heard of — if not regularly sipped — the low-cal margarita that counts celebs like Jennifer Aniston as fans. But that's not the only healthy option for your next happy hour. Regardless of whether your booze du jour is mezcal, rosé, or anything in between, you can still enjoy some of your favorite cocktails with a few easy tweaks. In fact, with a little intel from San Diego-based mixologist Carolyn Pascual of The Social Sipper, you can easily whip up a not-so-sinful concoction at home or order one out without shame.
According to Pascual, there are a few pointers to keep in mind for more healthful cocktail creating. Firstly, she suggests banning pre-made mixes. "They add calories and tend to have added sugar and/or sodium," she explains. Instead, she recommends using real, high-quality ingredients instead. It may be a little extra work for you, but your drinks will taste better and you'll know exactly what's in them. But even when you're squeezing your own fresh juice, the beverage expert admits that for the healthiest version, you'll want to keep it to a minimum to avoid excess sugar.
Another tip is to go for low-ABV (alcohol by volume) options. Part of your healthy living plan might be keeping alcohol to a minimum in general, and in that case look for those between 0.5 and 1.2 percent ABV. Always check labels when you're trying to keep this in mind, but some examples of low-alcohol options include apertifs and spritzers.
Ready for a drink? Ahead, find five examples of healthy, summer-ready cocktails that don't sacrifice on flavor, as recommended by Pascual — including some of your favorite classics with a few crucial twists.
Mojito
"A mojito is a much better option than the traditional vacation drinks like a mai tai or piña colada," says Pascual. "Sip on a modified mojito if you are watching your sugar or carb intake. Make yours at home with white rum, muddled mint, club soda, lime and stevia. During a night out, order yours with light or no sugar and some extra lime."
Wine Spritzer
"Spritzers have a bit of a bad reputation but they're great for summer sipping, have less calories than most cocktails and make your wine bottle last even longer," the cocktail expert shares. "They're also low in alcohol content. Make one by combining a chilled rosé or white wine of your choice with club soda and ice."
Paloma
Love tequila? Try this refreshing option instead of your usual "skinny margarita" next time you're having a drink. "A paloma is crisp and citrusy and is a great replacement for a margarita," says Pascual. "Make yours with fresh grapefruit juice, lime juice, tequila and club soda."
Gimlet
Traditional gimlets (gin, lime juice, and simple syrup) can be heavy on the sugar, but you can still get the flavor of this old school favorite while making it work with your healthy eating (and drinking) plan. "Go light on the simple syrup or make yours with another sweetener to lighten it up even more," Pascual says. And if you're feeling fancy, add a sprig of rosemary for an unexpected, herbaceous twist.
Basic Bloody Mary
By avoiding a pre-made mix and using fresh, seasonal produce instead, you're not only making this quintessential brunch drink healthier, but also much more flavorful. "Skip the mix and make yours with fresh tomato juice, lemon, Worcestershire sauce, and hot sauce," Pascual advises. "When making one at home, stick to around three ounces of tomato juice to also keep your drink lower in sugar."