Master This Simple Grilled Dish To Be The Star Of Your Fourth Of July BBQ
zarzamora/Shutterstock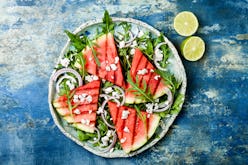 You don't have to be a grill master to create a winning dish at your next summer bash. That said, you can also do a whole lot better than just the same-old-same-old (pre-cooked hot dogs and basic potato salad) with a little imagination and some no-fail recipes from top chefs. By nailing a few easy grilled appetizers, you'll be the MVP of whatever BBQ you attend this season.
Grilling has a ton of advantages. Besides being a great tool for whipping up some healthy dinners (in lieu of frying), it always imparts that slight kiss of charcoal that's just quintessential for summer dining. And if you've primarily been using your own grill for burgers and not much more, you could probably stand to add a few more dishes to your repertoire.
With the help of a handful of Los Angeles-based chefs, you can put together some killer grilled appetizers to serve at your next pool party or even a fancy dinner on your newly upgraded patio. And the best part? Not only are they far from basic, but they're shockingly simple to make. Read ahead for five that will take your grilling game to the next level.
Grilled Prawns With Corn Salsa
Grilled shrimp skewers are classic, but Chef Daniel Cutler of Ronan suggests a few twists that will make this appetizers a total standout. First swap out shrimp for head-on prawns. Peel, devein, and season with salt and smoked paprika before grilling on pre-soaked wooden skewers over medium heat until caramelized and cooked through. Then dress with olive oil and lemon.
But what really makes this dish shine is the corn salsa. "Grill whole ears of corn until nice grill marks are achieved," Cutler says. "Cut kernels off and put into a bowl with halved cherry tomatoes, roughly chopped basil, parsley, and whole mint leaves and dress salsa with lemon, olive oil, salt, pepper, and capers if you have them."
Grilled Nectarine Caprese
Everyone loves a caprese salad, which traditionally combines fresh mozzarella, basil, and tomato drizzled with olive oil and balsamic. Cutler's version adds grilled stone fruit, like nectarines, for a slightly sweet and decidedly summery flavor. Start with not-too-ripe heirloom tomatoes and nectarines (pit removed) cut into thick slices and coated heavily with olive oil. Cook over high heat on a well-oiled grill until you get hard grill marks.
"After tomatoes and nectarines are removed, cut into bite size pieces, dress with olive oil, torn basil, and nice sea salt," he instructs. "Place in a large bowl and tear a few balls of burrata over the top. Season cheese with salt and olive oil and tear some additional basil. Add aged balsamic vinegar if you desire."
Grilled Fish With Spicy Mayo
Simple grilled fish gets upgraded with a spicy mayo in this easy-to-make dish. And while you're free to use any fish you like, Cutler particularly loves working with fatty, flavorful yellowtail collar. Want to give this cut a try? Here's how. "Season flesh-side of yellowtail collar and cook on a greased grill with skin side down moving semi frequently to achieve even crisping of the skin," he says. "Finish on flesh side briefly and test doneness with cake tester. If the inside is hot, it's probably cooked, but for extra assurance, probe with meat thermometer to 140 degrees fahrenheit."
As for the mayo, Cutler suggests simply combining store-bought mayonnaise with Sriracha if you're in rush. "But if you are an overachiever, homemade aioli with Calabrian chili paste is a real winner," he adds. Finish it off with some grilled some green onions tossed in olive oil, garnish with lemon slices, and voila.
Grilled Watermelon Salad
For Chef Kyle Johnson of Bourbon Steak, it doesn't get any more summery than this combo of sweet watermelon and tangy feta. And the kiss of the grill takes it over the top. "For my favorite summer salad I like to grill watermelon, top with feta cheese marinated in olive oil lemon zest, cracked black pepper and finish with aged Saba and fresh torn lavender mint," he says. Done and done.
Quinoa Salad With Grilled Avocado And Summer Vegetables
Chef Michael Hung of Faith & Flower suggests grilling something you probably wouldn't have thought of to make one of his favorite seasonal dishes: an avocado. Start by steaming quinoa in a rice cooker. "For the veg, any assortment grilled simply with olive oil and sea salt will be great," he says. "The avocado is grilled until charred — the fat in the avocado holds onto the smoked flavors of the grill." Then dress simply with balsamic vinegar or lemon juice and extra virgin olive oil to finish it off.