How 7 Sister-Run Businesses Navigate Working With Family
All the ups and the downs.
@mykarite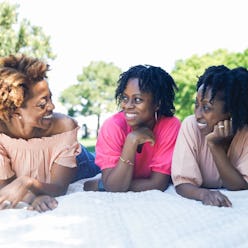 Starting your own business isn't for the weak. It takes guts, grit, and, of course, money. But it also takes trust. A team that has each other's backs can be the not-so-secret weapon of successful brands, which may explains why so many sisters decide to get into business together. In the best case scenario, creating something from the ground up with someone you know better than anyone (and vice versa) means a built-in support system, having a partner who tells it to you straight-up without stepping beyond your boundaries, who has your best interests in mind, and whose opinions you greatly regard. But working with any kind of loved one — a sister in particular — can certainly come with its fair share of challenges.
Every family has its dynamics, but sister relationships seems to be surrounded by a specific kind of mythology (second only, perhaps, to mother/daughters), often marked by an intense connection, closeness, and occasionally even competitiveness. Perhaps that's why sister-run businesses always seem to fascinate the public. Take into consideration a few well known examples, like Mary-Kate and Ashley Olsen's The Row, the Jenner sisters' Kendall + Kylie, and the multiple collaborations between Kim, Khloe, and Kourtney Kardashian. For some consumers, part of the appeal (beyond the proximity to celebrity, of course) is the storytelling of sisterhood: The romanticized blurring of work and personal lives, the idea that the products you purchase are made with a little extra love, passion, and enthusiasm because of sisters' similar and complementary characteristics, intuition, and deep understanding of one another.
That said, not every close sister relationship can sustain working together, let alone running a business and all the additional stresses that go along with that. But if you ask a few at the helm of your favorite wellness, fashion, beauty, and food/beverage brands, they'd explain that the sweetness of shared success makes all the challenges worthwhile. Read ahead to learn about seven standout sister-run businesses to support for Women's History Month and beyond. These genetically tied teams discuss the best and worst parts of working with a sibling, how each uniquely contributes to the overall success of a product, and why their bond makes their brand so special.
Zero Proofed
Chirasmita and Priyanka Kompella founded Zero Proofed, a booze-free pop-up party, in 2022. This family affair truly began with their grandma, who whipped up botanical mocktails for her young granddaughters to enjoy during major events throughout their childhood. As they came of drinking age they found themselves aligned on the belief that celebrations don't have to be synonymous with alcohol, so they built a business on this family tradition. "Our brand vision is to bring on the toasts, the happy hours, the flavors, the wild nights out — but make them booze-free," Priyanka says. "We're dreaming of a world where we drink less booze, have fewer hangovers, live in the present, and create epic memories. Because our vision is so true to who we are individually and as family, every time we design a celebration for the community, it's authentic. It's like we're opening the doors to our own living room." Together, they're hoping to disrupt the booze-free industry and offer more options to those living the sober curious lifestyle.
Though, as sisters, they share many similarities, this duo's differences equally strengthen their business. For Chirasmita, Priyanka's tenacity is the secret weapon she brings to the table. "Priyanka is incredibly tough and one of the most persistent people I know," she explains. "She works through adversity and always finds a way around roadblocks. It's an important asset when you're one of the trailblazers disrupting the industry."
And Priyanka tells us that her sister's greatest business assets are her people skills and ability to share a message that resonates. "Chirasmita has a special art of connecting with people and her perspective helps make our disrupting and unfamiliar vision relatable to the everyday person," she shares. "It's a key skill set when you're working to have the mass society adopt and support your product, brand, or vision."
Karité
Ethical shea butter-based beauty brand Karité is the brainchild of a trio of powerhouse sisters: Dr. Naana Boakye, a board-certified dermatologist serves as CEO, MBA grad Akua Okunseinde holds the position of CCO, and attorney Abena Slowe stepped in as COO. Together, they aspired to offer body products with more of the good stuff (their hand and body creams and balms boast 30% shea butter) — and none of the bad (you won't find dyes, silicones, artificial fragrances, or parabens in their formulas). Not only that, but these Ghanaian siblings take their idea for female-powered family business even further by utilizing women-run farming co-ops in northern Ghana to source and process ingredients.
An important part of the sisters' motivation in starting a business is creating a legacy for their family. "Each of us has two children, and it's awesome for them to see us meeting and talking on the phone at all hours," says Okunseinde. "And the best part is that they all use Karité on their skin daily. We love the fact that we're building a legacy for our kids and that the business is tied to our motherland."
If you venture onto the brand's social media feed, you'll find no shortage of images of the the three sisters together — traveling, working, laughing. And Slowe says that their transparency and the fact that they share such a personal aspect of the brand allows for a unique customer connection. "People really love our story," she explains. "We do not know many other successful sibling-owned brands out there, so we feel that our story really sets us apart from our peers. In addition, we love to be able to share our love of shea butter and its connection to Ghana. Our brand vision is to continue to bring the best ingredients from Ghana to our customers and to continue to create formulas that are rooted in Naana's expertise on all things skin care."
Maguire
Before founding Canadian-based footwear and accessories brand Maguire, the Belzile-Maguire sisters —Romy and Myriam were both in the business world lending their talents (marketing and designing, respectively) to other brands. When they finally decided to combine efforts full-time with their own label and boutiques in 2016, they knew they wanted to set themselves apart by offering a transparent business model and manufacturing practices. While they pride themselves on fair price points, they also want to be sure every customer knows where their money is going, so product pages include a breakdown of costs.
Romy tells us their clear and comfortable communication style helps them navigate what could become conflicts in less lived-in business relationships. "We have a short-hand, I can be really straight with her," she says. "I don't need to worry about hurting her feelings or anything like that. There's no filter, and I know that she's being honest with me too. It's a safe space." And benefits of being a sibling-run brand doesn't end there. "I think being a sister-owned (and operated) company really informs our corporate culture," Myriam explains. "As a team we are more cooperative than competitive, and we emphasize collective success rather than individual." There is one caveat, she shares. "We have to resist discussing business at all times."
Block Shop
The sisters of Block Shop — CEO Hopie Stockman, CMO Grier Stockman, and Creative Advisor Lily Stockman — built their textile, art, and design studio on the concept of family and community. Besides themselves, Block Shop is anchored by a multi-generational team of artists and craftspeople in Los Angeles, Italy, and India whose traditional techniques and processes are an integral part of the brand's beloved robes, rugs, handkerchiefs, and more.
Block Shop's pretty impressive resumé (including collaborations with Ace Hotels and Airbnb, features in Vogue and Architectural Digest) is in some part due to their sisterly bond, which only adds to their emotional connection to the brand. "Bringing beauty into the world alongside my sisters is the most fun I've ever had doing anything," says Hopie. "Sharing the highs genuinely magnifies the feeling. For example, seeing a room installed in our wallpaper is so much more exciting when it's a design that came out of our shared brains, and is now covering a room!"
Another benefit of working together? No BS. "I love that we have a de facto radical honesty policy," Hopie adds, "It saves a lot of time. There's no relationship maneuvering, communication is just straightforward. We can pick up each others' slack without batting an eye." However, Grier mentions that this lack of boundaries can also come at a cost — once a month, specifically. "[The most challenging times are when] our PMS is synched," she explains. "Like clockwork, we get in a sister spat once per month, and it suddenly feels like everything is in crisis. But we're getting better and better at resolving the spats quickly and hugging it out."
Homebody
You can feel the love radiating from Homebody. Not just the sunny branding — with pastel colors and cheeky copy — or the fact that the wellness brand makes CBD-powered bath products intended to bring more bliss to your life, but also from the mutual affection and appreciation of its founders, sisters Christiana Grammer and Rebecca Grammer-Ybarra. "My sister is the yin to my yang," Rebecca, a mom and former chef tells us. "And it's that synergy effect that happens when you mix polarizing ingredients that explode into magic. That's what Homebody is all about."
Christina adds that their bond isn't just familial, they also consider each other best friends. And while they share the same overarching goals for the business, they don't always agree on everything — not that it has to be a bad thing. " We pretty much know each other's strengths and weaknesses," she explains. "Because we are so different and we challenge each other, it brings a good balance to the brand. A little sisterly competition keeps us on our toes and brings out the best of us creatively."
Gabriela Artigas & Company
Gabriela Artigas & Company's Sales Director Teresita (Tere) Artigas and Designer Gabriela (Gabi) Artigas were raised with strong ties to their family. Their mother, who they admit they still speak to every day, operates a national grief counseling organization in Mexico, and her drive put the wheels in motion for Tere and Gabi to become businesswomen themselves one day. Beyond the strong work ethic and guts to make something of their own, the sisters also inherited other core values that would come to shape the brand they began — namely compassion, collaboration, and above all love.
One of the advantages to running a business with your sister, Tere tells us, is having constant support by your side. "You have a partner to talk to and your partner is available 24-7," she says. "For all the important decisions you can rely on each other. We share similar values because of our upbringing and what our mother taught us. You're swimming in the same current. The most important thing is that I have someone to rely on and she has someone to rely on."
In terms of ways their closeness can be counterproductive, Gabi says, "I think that she's more level-headed and I'm more passionate, so there's disagreements and different personalities. Different ways of seeing things." Adding to that, Tere notes that work/life balance is something the two have to be very conscious of. "We always try to be very clear that work is work, especially when something is not going the way you want it to go," she explains. "It's like the saying 'don't take your work home' or 'don't go to bed angry.' We really try to avoid that because you can ruin a relationship if you don't respect those boundaries." So how do the two keep themselves in check in those moments? A little bit of space, and a good family meal. "We set it aside and say 'We're going to have lunch and it's going to be fine and on Monday we can get at it again!'"
Sisters Body
The three sisters of Sisters Body may share a bloodline, but they arrived to their body and haircare brand through vastly different career paths: Doni is a musician, Eva a doctor, and Jo a midwife. They came together with a shared goal of creating products that offered a luscious and feel-good experience, but with an ingredient list they'd be proud to share with family and friends. Their shampoo, conditioner, hand wash, and body cleanser are all microbiome-friendly and packed with gentle but effective plant-based ingredients — and made without sulfates, parabens, PEGs, and chemical preservatives or fragrances.
The fact that they all live such separate lives makes Sisters Body such a joy, giving the siblings an excuse to stay in touch. "We all have kids and live in different states and have crazy schedules, so this business is kind of the glue that keeps us communicating all the time," Jo explains. "We take turns playing the leader role in the business. When someone feels inspired she goes with it. That works for us."
Their built-in dynamic is quite literally in Sister Body's name, so it's no surprise that the trio believes their relationship truly is what defines their business. "We understand each other on a very deep level, of course," Eva says. And Jo tells us that this understanding means they're always on the same same page in terms of what Sister Body is and what they want to offer. "We only make things that we as sisters collectively love," she goes on. "Also, our dad is our scientist so it is really a family affair!"