This Non-Alcoholic Summer Spritz Is Perfect For Sipping Poolside This Season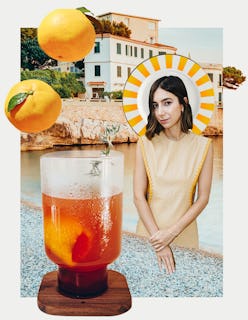 TZR's Bon Aperitif series explores the cocktail creations of some of your favorite celebrities and influencers. From indulgent martinis to the perfect wine spritzer, these recipes aim to make your life a little more joyful. Our latest installment features a refreshing non-alcoholic summer spritz from Mélanie Masarin, founder of beverage brand Ghia.
While the first thing that may come to mind when you think of a perfect summer spritz likely involves some sort of sparkling wine or cocktail, there are plenty of equally enjoyable ways to indulge that don't involve alcohol. Just ask Masarin, who's built a whole brand on the notion that festive sipping needn't come with a hangover. In fact, her go-to summer mocktail (which she's dubbed "A Night At The Spritz") for the warm-weather months is a chic spin on a zesty, Mediterranean aperitivo, sans the booze.
"When I think of a spritz, I think of summer, I think of swimming in the sea, I think of this very European nonchalance of getting together and evenings on repeat," says the founder of social media darling Ghia, which has become quickly known for its picture-perfect alcohol-free spirits.
Ahead, the CEO walks TZR through her favorite seasonal mocktail, which is likely to become yours, too. Cheers!
A Night At The Spritz Mocktail
Instructions:
2 ounces Ghia
2 ounces sparkling water
A sprig of rosemary
The zest of one orange
Mix 2 ounces Ghia and 2 ounces sparkling water, stir gently. Serve in a wine glass on the rocks and garnish with fresh rosemary sprig and bright orange zest.