The Target Pool Float Your Labor Day Weekend Party Needs
This isn't your average noodle.
DisobeyArt/Shutterstock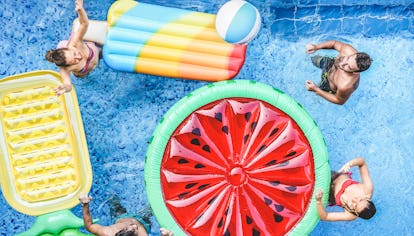 Labor Day may soon be here, but that doesn't mean it's time to stop planning your summer parties just yet. In fact, August and September are often some of the hottest months of the year, meaning there are plenty of weekends left for splashing around in the backyard — and nothing gets you pool-ready quite like an epic pool float. Yes, in recent years, the novelty items you enjoyed as a kid have become summer staples for, well, everyone. And, every year, it seems the float options become more and more extravagant.
While unicorns, flamingos, and ice cream-shaped floaties will always have their place in a pool, upgrades are getting bigger and better. For example, brands like Funboy and Target are now embracing party floats that are made to carry more than one person. Five-person island floats are designed to sit in the middle of a pool or lake and come with cup holders and tray holders so you can lounge, sip, and snack to your heart's content without moving a muscle — and do so with a few of your closest pals.
And if you're one to frolic and play in the water, there are plenty of float options for you, too. Volleyball nets, basketball sets, inflatable slides, and even sea-saws are available now and ready to join your next pool extravaganza. And if the thought of blowing up a giant pool slide exhausts you, don't fret, many of these larger floats come with pumps to make your life easier and help you save some breath.
For the hostess with the mostest, there are tons of pool floats that'll make your life easier. With floating drink holders, coolers, and mini-bars at your fingertips, you won't need to run around your backyard pouring drinks or grabbing beverages for guests hanging by the pool. Just throw your chilled drinks in some inflatable carrying floats with a little bit of ice and let them naturally graze around the pool. You can also put your canned drinks in individual floats and pass them to guests while they splash around. You literally have an inflatable bartender.
And for all you solo-fliers out there, the float options to do so are in abundance. Upgrade your flat lounger and try a reclining option or floating chair. Flat floating beds are also still available but in cooler silhouettes like pink convertibles and rosé bottles. Sorry, unicorn and donut floats, you may have been replaced. Indeed, the latest floats will make you want to hang in the pool even when you don't have company. And who would blame you?
Last but not least, dog-lovers can rejoice, as well. Brands now offer puppy-friendly floats so your furry friends can join in on the summer fun, too! Just plop Fido on a floating mat and let him take in a little sun and water as you float beside him.
Are all these options making you want to add all the floats to cart? To help you get started on the pool party prep, ahead, you'll find 25 amazing floats that will turn your pool (or any body of water for that matter), into a summer oasis. Enjoy!
This article was originally published on