The Epic Pool Essential You Need For Memorial Day Weekend
Alena Ozerova/Shutterstock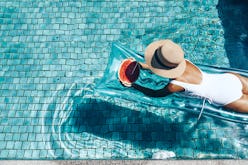 Technically speaking, summer starts on June 21. But in many people's eyes, the unofficial kickoff actually happens Memorial Day weekend, when some of the year's first pool parties commence. And because the holiday is just around the corner, chances are you're either getting ready to plan one of your own, or there's one you're getting ready to attend. And if you're in the former category, you could probably stand to stock up on some summer pool party essentials.
By the time the three-day weekend rolls around, it's considerably warmer and sunnier in many parts of the country, which means that loads of people have all the excuses they need to break out the grill, shake up some summery cocktails (or pop the rosé if you prefer), and invest in some stylish pieces of patio furniture. And if the occasion inspires you to plan your own summer soirée with friends, some finds will help you create your chicest — and most 'grammable event — this year.
For the perfect party essentials to kick off the season in style, see ahead for the 10 things you should consider snagging now in order to have a truly unforgettable Memorial Day bash.
An Instagram-Worthy Float
First things first: A photogenic float is an absolute must for relaxing in the pool — and taking the ultimate summer pic.
Outdoor Umbrella
Keep food — and guests — safe from the sun with a weatherproof umbrella that will provide much needed shade.
Chic Towels
Any towel will keep you and your guests dry, but by scattering around a few super-stylish ones — like this monstera leaf-shaped one — you'll create some especially inviting spots to chill and soak up some sun (okay, and likely take a selfie or two).
Drink Koozies
Koozies are the best way to keep your bottles and cans chilled in the coolest way (pun intended).
Bar Kit
If you're planning on playing mixologist for the party, you'll want to invest in a good bar kit. This will keep your shaker, strainer, jigger, muddler, bottle opener, and more in one stylish and travel-ready set. Just make sure you've got a few classic summer drink recipes memorized.
Blender
Speaking of summer drinks, a blender is essential to have on hand for margaritas, daiquiries, frozé, or whatever other slushy concoctions you like. And besides that, you can use it to whip up some fresh salsa if you'll be serving up tacos.
(Lots Of) Rosé
Of course you'll want to make sure to have a variety of beers, wines, and booze on hand to accommodate a variety of guests, but rosé is undeniably still summer's drink du jour, so you'll want to be sure you're stocked up. And if you happen to find it in canned form, it's even more pool-friendly.
Melamine Plates & Trays
Disposable plates may be good for easy clean-up, but they're not so great for the environment. A better option for something that's unbreakable, but also super chic, is a melamine set. And around this time of year it's easy to find sets in summer colors and patterns that are perfect for a party setting.
Interactive Games
Bring guests together with a fun outdoor game, like cornhole. Bonus points if you can find a version that can be played while you're in the water.
Grilling 101
Regardless of what's on the menu, it wouldn't be a summer party if there weren't a few items with the charcoal kiss of the grill. To find some creative ideas, grab a cookbook that specializes on dishes cooked over open flames.