This Controversial 2000s Shoe Trend Is Back For Spring 2022
Returning to their polarizing glory.
Jeremy Moeller/Getty Images Entertainment/Getty Images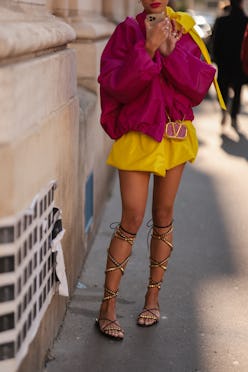 Once a key component of mid-2000s fashion, women's gladiator sandals have returned in all their strappy, lace-up, not-so-subtle glory. See: Zendaya in the latest Valentino campaign, models on the Balmain runway, and tons of influencer Instagram posts as proof.
It's unsurprising, given the prominent mid-aughts resurgence across all categories, from clothing to music to beauty. But as with every revival, there is always a little bit that has changed. 2022's version of the footwear takes the 2007 gladiator sandal and adds its own modern twist. And with their evolution, a once-controversial (OK, still pretty controversial) type of footwear feels a little less polarizing.
This time, the criteria for what defines a 'gladiator sandal' is loosened: Grommets are optional, perhaps even discouraged; straps can be dainty and ultra-thin, not just thick and made of leather; they can be two-toned or feature crystal-cut appliqués versus the standard black and brown (though those are still prominent too); and the soles range from flat to flatform to kitten heels and treaded styles. Essentially, there's a version for an outfit or occasion.
Here, find 13 women's gladiator sandals that will have you reconsidering the trend this spring and summer. Put them on display with a Miu-Miu-style micro-mini, or let them peek out from a pair of cropped mom jeans for some added interest. The options are endless.
TZR Shop is The Zoe Report's shoppable guide to editor-approved buys in fashion, beauty, wellness, and lifestyle. We may receive a portion of sales if you purchase a product through a link in this article.
TZR Shop brings you the editor-approved buys we can't get enough of and think you'll adore, too. Best of all, you can shop all of the products above directly on this page without visiting multiple retailers. Simply click on an item to learn more, choose your size or favorite color (if applicable), and then hit "add to cart." When you're done, you can click over to your cart in the top right corner of your screen to purchase all your stellar selects at once. How easy is that?
Questions about shipping, returns, or your order in general? Click here for more information.
Explore more of TZR Shop (and our fashion, beauty, and lifestyle must-haves) here.