Designers At Paris Fashion Week Are Signing Off On The Tie Trend
The 9-to-5 accessory is now runway-approved.
Courtesy of Alexander McQueen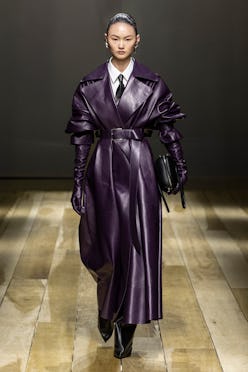 Unlike some looks that have sent social media into a frenzy (mini skirts, ballet flats, and so on), the tie trend has been quietly brewing over the past few years. One of the first people to put the early '00s Avril Lavigne-loved style back on the map was Bella Hadid, who marched down the catwalk at Alyx's Fall/Winter 2020 show wearing a sophisticated black tie, and then again two months later in a shiny maroon iteration on the streets during PFW. The menswear-inspired style sporadically began making more notable appearances, from Zendaya's 2022 Oscars after-party outfit to Louis Vuitton's Fall/Winter 2022 show. But the look hadn't quite reached peak popularity — until now. If there's one message the Paris Fall/Winter 2023 runways are sending to the world, it's that ties are 2023's new It accessory.
The first major tie moment of the week was at Dior, where polished black iterations were paired with crisp white button-downs. And the next day at UNDERCOVER, models wore extra long, ultra-skinny styles, running the gamut from vibrant orange to muted gray. Moreover, Hermès zeroed in on workwear ties by way of leather and pinstriped styles, while Alexander McQueen went the same route as Dior, teaming the accessory with the aforementioned Oxford shirt.
Christian Vierig/Getty Images Entertainment
Jeremy Moeller/Getty Images Entertainment
If you've been keeping a close eye on fashion month street style in its entirety, you likely already noticed the 9-to-5 piece making waves outside the shows, too. For instance, influencer Dylana Lim Suarez wore a royal blue tie with a white button-down and relaxed trousers in New York. Stylist Jan-Michael Quammie also leaned into the dressy accessory in NYC, coordinating a plaid tie with a matching suit. Then there was influencer and Les Fleurs Studio Founder Maria Bernad, who offset a corporate-looking tie with romantic bows for the Dior show in Paris. And those are just a few of many examples; there have been dozens of tie sightings over the past few weeks.
But of course, like so many trends, ties are nothing new. In the 1977 hit film Annie Hall, the nightclub singer, played by Diane Keaton, was known for her androgynous style; her uniform in the film consisted of vests, khakis, and — that's right — ties. During the '80s and '90s, influential style icon Princess Diana adopted the look, too, sporting various sophisticated iterations. And in the early aughts, punk-pop darling Avril Lavigne famously made a tie her signature style.
Universal History Archive/Universal Images Group/Getty Images
Tim Graham/Tim Graham Photo Library/Getty Images
Kevin Winter/Getty Images Entertainment
For those who don't know how to properly put on a tie, consider watching a YouTube tutorial — because, trust us, you'll definitely want to be in-the-know this year. Below, see all the tie moments at PFW.
Valentino
ValentinoEstrop/Getty Images Entertainment
Estrop/Getty Images Entertainment
Estrop/Getty Images Entertainment/Getty Images
Pierpaolo Piccioli's "Black Tie" collection drew inspiration from his 15-year-old daughter's newfound affinity for suiting and ties. Nearly every look in the 73-piece assortment included a tie, many worn with office-approved Oxford shirts. Additionally, Piccioli paired the menswear-inspired accessory with romantic looks, including lace sheer tops, sparkly dresses, and flowy gowns.
Alexander McQueen
Courtesy Of Alexander McQueen
At Alexander McQueen, ties were a key style in Sarah Burton's super-sophisticated lineup. Though each tie look contained a white button-down, the rest of the looks' elements varied, from luxe leather jackets to a sleek strapless jumpsuit.
UNDERCOVER
UNDERCOVER took perhaps the most fun approach to ties, showcasing a long sliver of fabric in a many hues. Consider these styles the perfect entry point into the emerging trend.
Dior
Ties were a focal point in Maria Grazia Chiuri's collection, which was inspired by French icons Catherine Dior, Édith Piaf, and Juliette Gréco. The accessory was styled with other office-ready looks, like white button-downs, roomy trousers, and flowy midi skirts.
Hermès
HermèsVictor VIRGILE/Gamma-Rapho/Getty Images
Victor VIRGILE/Gamma-Rapho/Getty Images
Finally, the ties presented at Hermès were equal parts understated and intriguing. The storied fashion house honed in on perennial materials and patterns, including leather and pinstripes, both seen above. In other words? Expect to see these fall-approved styles everywhere in the next six months.